Genshin Impact Nahida Story Quest Guide and Tips
In the latest Version of 3.2 Update in Genshin Impact, the long-anticipated five-star catalyst character Nahida was finally released with her banner, along with her very own Story Quest. Nahida is the current Dendro Archon of Sumeru and is currently the fourth Archon that the players encounter in the game's Archon quest line. She has generated a mass amount of hype around her due to her sad back-story and the series of unfortunate events she encounters in the Sumeru Archon Quest. In this guide, we will talk about the ways to complete the Nahida Story Quest in Genshin Impact.
Not only that, since Dendro has been introduced in the game ever since Version 3.0, fans have rightfully concluded that she would be an excellent unit for the role and have in the party, which proved to be true given her amazing kit of applying Dendro, easily for long periods of time and being an amazing Dendro Support off-field. In this guide, we will be helping you navigate through Nahida's Story Quest: 'Lingering Warmth' (Sapientia Oromasdis Chapter: Act I) with a thorough walkthrough and also share special insight and thoughts about her story quest in Genshin Impact.
How to unlock the Nahida's Story Quest: Sapientia Oromasdis Chapter – ACT I 'Lingering Warmth' in Genshin Impact
To unlock and play Nahida's Story Quest, players must: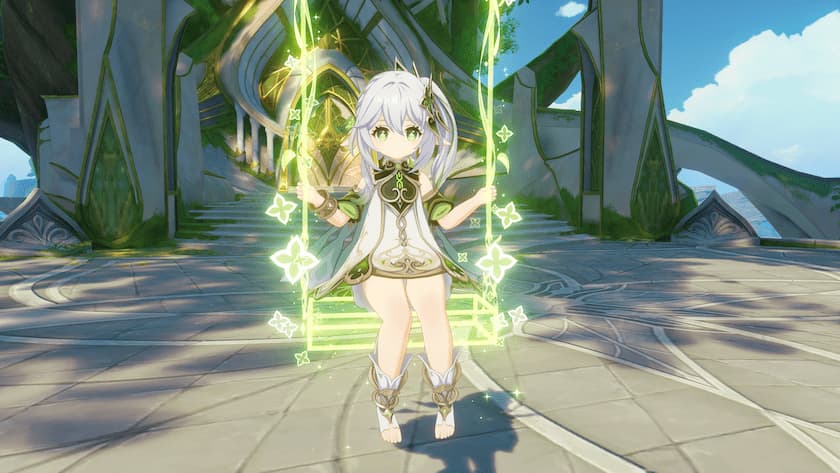 Image via HoYoverse
Genshin Impact Nahida Story Quest Guide: Quest Walkthrough
The Nahida Story Quest in Genshin Impact is divided into 3 different parts, with rewards attached to it.
Part One: Dream of Awakening Synopsis
One day, the player and Paimon notice that many people in Sumeru City are talking about dreams…
They would teleport to Sumeru City which is located in the Sumeru region.
Once players walk to the city, they will encounter an NPC named 'Pedrush' which will then begin your Story Quest.
After talking to Pedrush, follow him and head to "A Moment of Dreams", an event where there is a group of people gathered around the area talking about their dreams. Players will then talk to many NPCs who will describe their dreams and ask for advice. Afterward, Nahida will show up and give her insight into their problems, one of which will be someone named IIman.
After talking to several people, go check up on Ilman, who sits away and is in a depressed state.
Ilman will then describe his dream state again and takes us along with him to head toward the place he mentioned he saw in his dream.
Talk to Ilman once the player reaches the area and climbs to the top of the summit.
Once the player reaches the summit, the player will encounter some monsters, defeat those monsters
Afterward, go and talk to Ilman again where he will explain his dream state.
After ascertaining the situation, return to "A Moment of Dreams" place back in Sumeru City to tell the other people about what transpired.
Part One Quest Rewards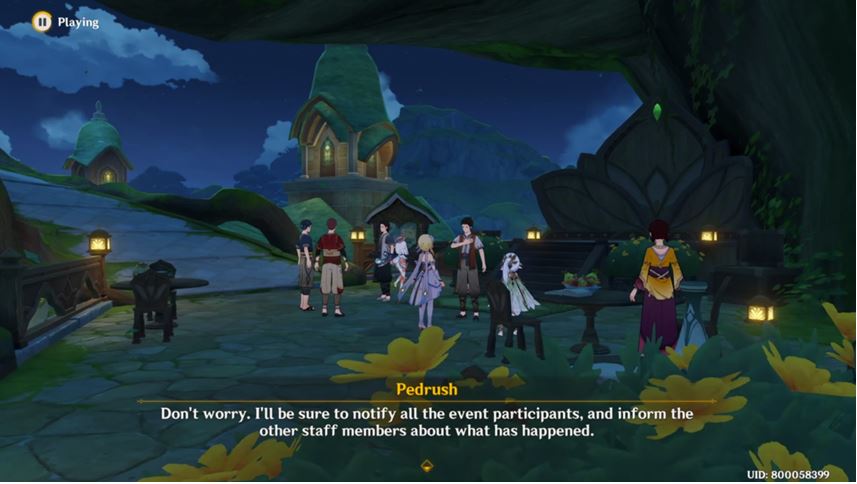 Image via HoYoverse
Adventure EXP x 575
Mora x 38100
Hero's Wit x 4
Mystic Enhancement Ore x 8
Part Two: Dream of Falling Synopsis
The player does realize that many people may be experiencing unusual dreams just like Ilman. To prevent the dreams from causing more harm, you must return to "A Moment of Dreams" to take measures.
After discussing with Nahida, head to Chatrakam Cave to find one of the missing Dreamers and defeat the attacking monsters
Talk to Kathyam and access her unusual dreams and inform her about the truth about her dreams.
Afterward, return back to the 'A Moment of Dreams' event again.
Once players reach there, they will find more people who are sound asleep and dreaming. Players should follow Pedrush to check on the person who is currently dreaming and check on Debbi
After discussing with Nahida and coming up with a plan, go and enter Debbi's dream sequence
The player is now in the Dream sequence, with many dreams intercepting one another. Talk to Nahida to understand the situation.
Navigate through the place and follow the location of the pin-point. Fight some enemies and finish them till it leads you to enter the depths of the dream. You will then encounter Debbi's dream sequence.
Talk to Nahida and discuss Debbi's dream.
Look for clues in the café and use Nahida's Elemental Skill: 'All Schemes to Know' by holding it and aiming toward Debbi to read into her mind
After talking to Debbi, head to the deeper part of the dream
Talk to Nahida again
Go deeper into the dream. Follow the navigation till you encounter monsters. Defeat them as they keep spawning.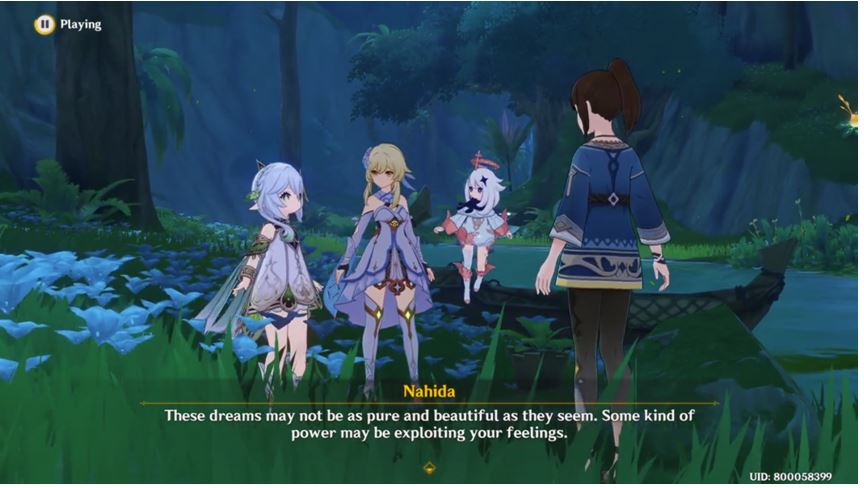 Image via HoYoverse
Continue to head deeper within the dreams. Pick up the shard and head to the navigation to place the shard.
Head deeper into the dreams and talk to Nahida again
Look for clues near the cliff and find Ilman. You with then encounter his family but inform Ilman about the dream sequence and its flaws. Ilman will then point you in the direction deeper within the dreams.
Follow the navigation to go deeper within the dreams.
Talk to Nahida again to investigate the interlocking dream sequence and discuss the reality of the dream.
Reach the deepest part of the dream. Follow along the navigation to pick up the shards and place them in their designated place while also defeating monsters along the way.
Talk to Nahida once you reach the final destination of the dream sequence.
Look for clues in the city to find the true host of the whole dream sequence. Use Nahida's Elemental Skill: 'All Schemes to Know' by holding and aiming toward the NPCs. You will then encounter someone called Moseis.
Talk to Moseis. He will then explain his whole experiment and dream sequence on how he used the Akasha to make it possible in order to see his deceased wife.
After talking to Moseis he will summon monsters to stop the traveler and Nahida. Defeat the attacking monsters.
A cut-scene will play out where Moseis's dream sequence becomes out of control and every illusion becomes a monster, including Moseis's wife Emira.
Defeat Emira and then talk to Moseis afterward.
Once you talk to Moseis, you will then wake from the dream
Part Two Quest Rewards
Adventure EXP x 750
Mora x 49200
Hero's Wit x 6
Mystic Enhancement Ore x 11
Part Three: Dream of Farewell Synopsis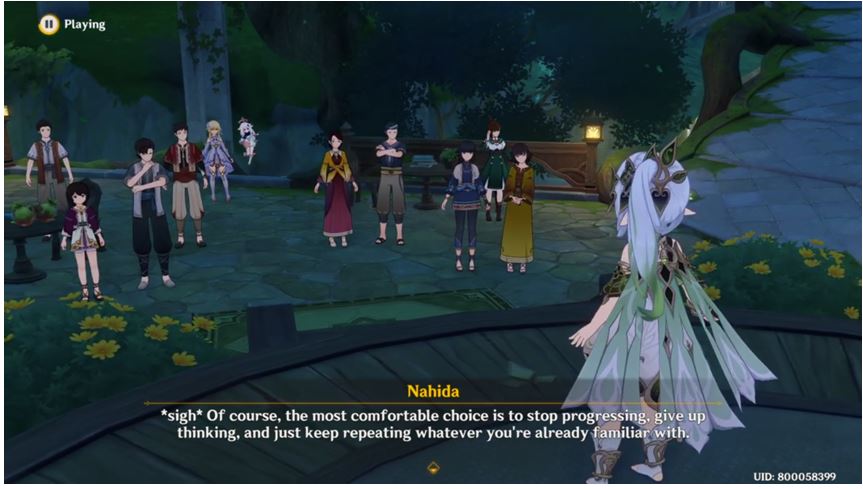 Image via HoYoverse
The artificial dream failed to erase suffering but instead created a sweet illusion. It has gone out of control and eventually collapsed. Everyone has now returned to reality with mixed feelings…
After waking up, inform the participants in the 'A Moment of Dreams' event about the whole situation regarding the dreams
Follow Nahida to deliver the knowledge capsule containing Moseis' consciousness to the Akademiya
Head back to "A Moment of Dreams" event where Nahida will then provide advice to the participants and motivate them regarding their dreams.
Afterward, meet up and talk to Nahida at the Akademia's plaza.
Part Three Quest Rewards
Adventure EXP x 425
Primogems x60
Mora x 27825
Hero's Wit x 3
Mystic Enhancement Ore x 6
Guide to Ingenuity x5
In-Depth Review and Discussion of Nahida's Story Quest ACT I Nahida's characterization and Journey
The story takes place after the whole events of the Sumeru Archon quests. During the archon quest storyline, players get to experience Nahida's character development throughout the plot. To put it simply, Nahida in hindsight very reserved and soft-spoken Archon. She differentiates herself from the rest of the three Archons, we encountered due to her little experience and knowledge of the outside world and her submissive demeanor.
Nahida initially was never confident with herself as an Archon, having to live up to the expectations of the former Archon of Sumeru, Greater Lord Rukkhadevata, and failing to do so as per the treatment of the Akademia. Although she may not live up to that expectations, we cannot dismiss the fact that Nahida truly cares for the people of Sumeru and we get to experience that when she proves it many times when she protects them from the Akademia's and the Fatui's devious plans.
Nahida in this quest has already been a well-loved and established God, having to deal with the many affairs of Sumeru. She helps the people of Sumeru in her own way by going through each of their individual dreams and guiding them through the truth of reality, as painful as it may be. This story quest proves and establishes her from the other archons as someone who is proactive and takes responsibility in her actions to help, even the traveler.
Story Plot
The plot of the story was well received, given that it follows Sumeru's Archon quest plot with the involvement of Dreams. Ever since the Akademia stopped extracting people's dreams, everyone in Sumeru can finally experience what it's like to dream again and hence hosted a little event called 'A Moment of Dreams' where the participants share their dreams and ask for advice from the Traveler and Paimon, and also Nahida afterward.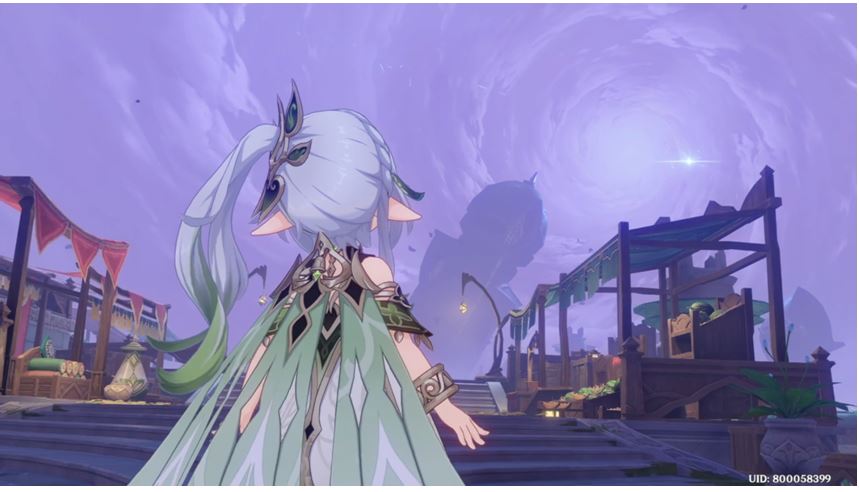 Image via HoYoverse
Of course, Nahida vehemently informed the dreamers and the traveler that dreams are meant to be as they are dreams. Fleeting hopes and indulgence for an individual. They should not be taken seriously and people should not risk themselves to live a part of their dreams. Life should be lived dealing and facing the pain and suffering in the real world, not avoiding them and living a false livelihood in dreams to indulge in temporary happiness.
Conclusion
In conclusion, Nahida's story quest is on par with the other Archon's story quest in terms of good writing. Even though the stakes were not as high as Raiden Shogun's second story quest or as dramatic and sad as Zhongli's both Story quests, it complemented her characterization greatly and stayed relevant to the whole lore of Sumeru. That's all for our guide to the Nahida Story Quest in Genshin Impact!
What are your thoughts on the guide for the Nahida Story Quest in Genshin Impact? Let us know in the comments below!
For more Mobile Gaming news and updates, join our WhatsApp group, Telegram Group, or Discord server. Also, follow us on Google News, Instagram, and Twitter for quick updates.
The post Genshin Impact Nahida Story Quest Guide and Tips appeared first on GamingonPhone.
* This article was originally published here