Animation One-To-Ones #18 – Nora Twomey (My Father's Dragon)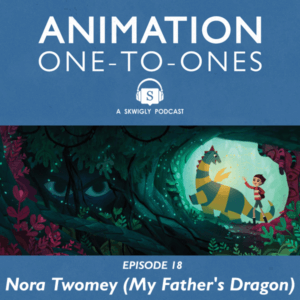 Skwigly.com presents Animation One-To-Ones featuring Steve Henderson in conversation with the Academy Award® nominated (The Breadwinner) Cartoon Saloon co-founder Nora Twomey, director of the animated feature film My Father's Dragon, out now on Netflix.
Based on Ruth Stiles Gannett's book of the same name, the film is produced by Bonnie Curtis and Julie Lynn of Mockingbird Pictures and Paul Young of Cartoon Saloon with a screenplay by Meg LeFauve (Inside Out) and story by LeFauve and John Morgan.
From five-time Academy Award®-nominated animation studio Cartoon Saloon (The Secret of Kells, Song of the Sea, Wolfwalkers) and Academy Award®-nominated director Nora Twomey (The Breadwinner), comes an exquisite film inspired by the Newbery-honoured children's book from author Ruth Stiles Gannett. Struggling to cope after a move to the city with his mother, Elmer runs away in search of Wild Island and a young dragon who waits to be rescued. Elmer's adventures introduce him to ferocious beasts, a mysterious island and the friendship of a lifetime.
Interviewer/presenter: Steve Henderson
Guest: Nora Twomey
Produced by Steve Henderson and Ben Mitchell
Music and graphics: Ben Mitchell
The post Animation One-To-Ones #18 – Nora Twomey (My Father's Dragon) appeared first on Skwigly Animation Magazine.
* This article was originally published here