Annecy 2023 Set to Extend Festival One Extra Day | Now Starting Sunday 11th June
In 2023, the Festival will start on Sunday 11th June to host 7 days dedicated to animation film! Following an exceptional 2022 edition, and in view of how dense this year's offer is becoming, CITIA's management decided to open the Festival as early as Sunday.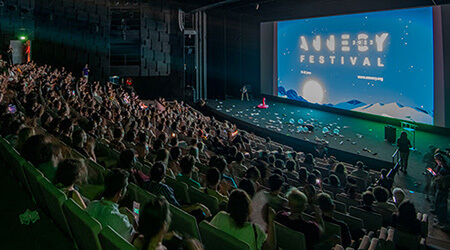 For the first time in its history, the Annecy International Animation Film Festival will open on Sunday evening, with its traditional Opening Ceremony held in the Bonlieu Scène nationale's Grande salle. There will even be a few screenings in the afternoon.
Therefore, Annecy 2023 will be held from 11th to 17th June.
Mickaël Marin, CEO of CITIA, puts his decision down to global animation's tremendous growth: "Each year, the number of festivalgoers is higher, the content is increasingly varied and comes from all walks of life, subsequently we find ourselves too restricted by the Festival's historical format. Bringing the opening day forward should enable us to improve everyone's experience and put the Opening Ceremony in the spotlight to increase its prestige in the week's overall programming."
­­ ­In recent years, the programming has become increasingly dense. By moving the Opening Ceremony to Sunday, we are re-establishing the agenda so that Monday becomes a fully-fledged Festival day. Also, a few screenings will enable festivalgoers to begin discovering the programme on Sunday. It's only December yet we already know that the programme will satisfy the most critical audiences. Quality and diversity have already made the cut, both with the major studios and the independent studios alike.

Marcel Jean, Artistic Director
And as Guillermo del Toro has announced, Mexican animation will be in the spotlight!
THE MIFA IS ALSO EVOLVING!
To respond to emerging challenges, the International Animation Film Market is restructuring itself for professionals and young talents around 3 offers and 3 areas, one of which is new!
Stands and pavilions in the Exhibition Area.
Industry Content (conferences, discussion panels, and meetings) at the Impérial Palace and at La Volière.
Talents Content (training, recruitment, etc.) in a new dedicated area: Le Campus.
This one in particular will be hosting the Mifa Campus, which will no longer be held on one day but from Tuesday to Friday like the rest of the Mifa.
See you from 13th to 16th June for the Mifa 2023!
The post Annecy 2023 Set to Extend Festival One Extra Day | Now Starting Sunday 11th June appeared first on Skwigly Animation Magazine.
* This article was originally published here