Intimate Animation (Season 4) #6 – Live at Manchester Animation Festival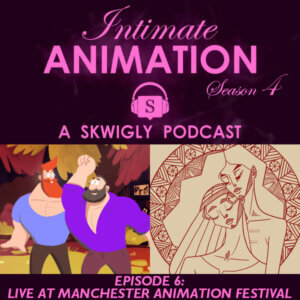 Presenting the sixth and final episode of Intimate Animation season 4, brought to you by the online animation magazine skwigly.com
Join Skwigly's Ben Mitchell and Laura-Beth Cowley as they explore, discuss and interview the talents behind animation that deals with adult themes of love, relationships and sexuality.
In the first ever live episode of Intimate Animation, recorded during the Manchester Animation Festival, we meet director Phil Wall and producer Chloe Beale of Strange Acre Studios, discussing their recently-completed BFI-funded short film Woodland which tells the story of arborists Alastair and Fergus who struggle to reveal their love to the narrow-minded village community they live amongst.
Also joining us is Julia Wiza to talk about her Nottingham Trent University thesis film Bogdanka, a tale of a young woman soon to be wed, inspired by Slavic mythology.
Presented by Ben Mitchell and Laura-Beth Cowley
Recorded at HOME Manchester
Produced and edited by Ben Mitchell
Thanks to Manchester Animation Festival and the HOME Manchester tech team
The post Intimate Animation (Season 4) #6 – Live at Manchester Animation Festival appeared first on Skwigly Animation Magazine.
* This article was originally published here