The Doom that Came to Gotham : l'adaptation animée annonce son casting vocal (et commence à se montrer)
Comme chaque année, les studios WB Animation entretiennent leur infatigable flux d'adaptations animées. En attendant de voir ce que proposera la nouvelle structure DC Studios de ce point de vue, ou même d'envisager l'idée d'un nouvel univers animé en règle générale, la compagnie enchaîne les sorties avec l'arrivée prochaine d'une version en images mouvantes de la mini-série The Doom That Came to Gotham (Batman : La Malédiction qui s'abattit sur Gotham).
Les Batmen Hallucinés
Ouvertement inspirée de la grammaire des comics Hellboy, ou de leur origine littéraire, à savoir, la bibliographie de l'auteur Howard Phillips Lovecraft, The Doom that Came to Gotham se présente comme une réinvention astucieuse des codes de la chauve-souris dans un environnement plus noir, plus démoniaque et plus angoissant.
Signé Mike Mignola et Richard Pace au scénario, sur des dessins de Troy Nixey, un encrage de Dennis Janke et des couleurs de Dave Stewart, l'album positionne Bruce Wayne comme un explorateur, replace les grandes figures des mythes lovecraftiens dans le contexte de DC Comics (Etrigan joue le rôle du démon, les Al Ghul de la secte de fanatiques, etc) dans une Gotham située en 1920. Un indispensable pour les amateurs de l'écriture Mignola et les exercices de style réussis dans l'hommage au versant fantastique des fictions pulp d'autrefois.
WB Animation a publié la liste des interprètes sélectionnés pour le doublage vocal de cette version animée. A savoir, David Giuntoli (Batman), Tati Gabrielle (Kai Li Cain), Christopher Gorham (Oliver Queen), John DiMaggio (James Gordon), Patrick Fabian (Harvey Dent), Brian George (Alfred), Jason Marsden (Dick Grayson), Karan Brar (Sanjay Tawde), David Dastmalchian (Grendon), Navid Negahban (Ra?s Al Ghul), Emily O?Brien (Talia Al Ghul, Martha Wayne), Tim Russ (Lucius Fox), Matthew Waterson (Etrigan), Jeffrey Combs (Kirk Langstrom), William Salyers (Cobblepot), Gideon Adlon (Oracle) et Darin De Paul (Thomas Wayne). A l'évocation de certains de ces noms propres, on comprend que l'histoire a visiblement été remaniée pour l'adaptation.
Le studio a également posté une première image. Difficile de savoir si celle-ci est encourageante ou non - à la fois, le style graphique semble avoir été passablement remanié pour évoquer les jeux d'ombre du style Mignola, qui inspire volontiers le coup de crayon de Troy Nixey dans la BD. Mais d'un autre côté, la palette de couleurs et le trait général semble encore assez conventionnel. A vous de voir, en attendant la sortie du long-métrage, prévue pour le printemps 2023.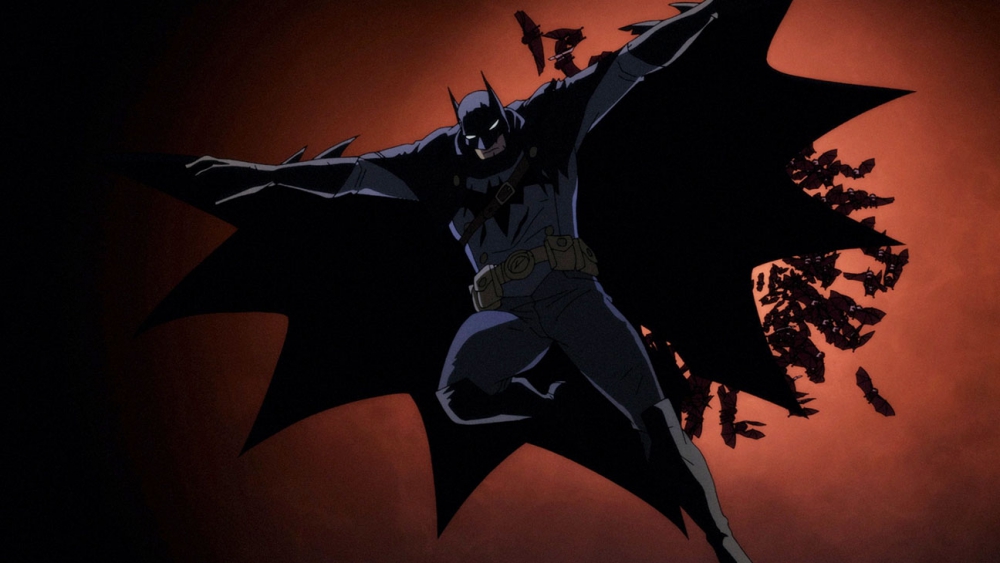 * This article was originally published here