ForeverPen Review: Tiny Inkless Pen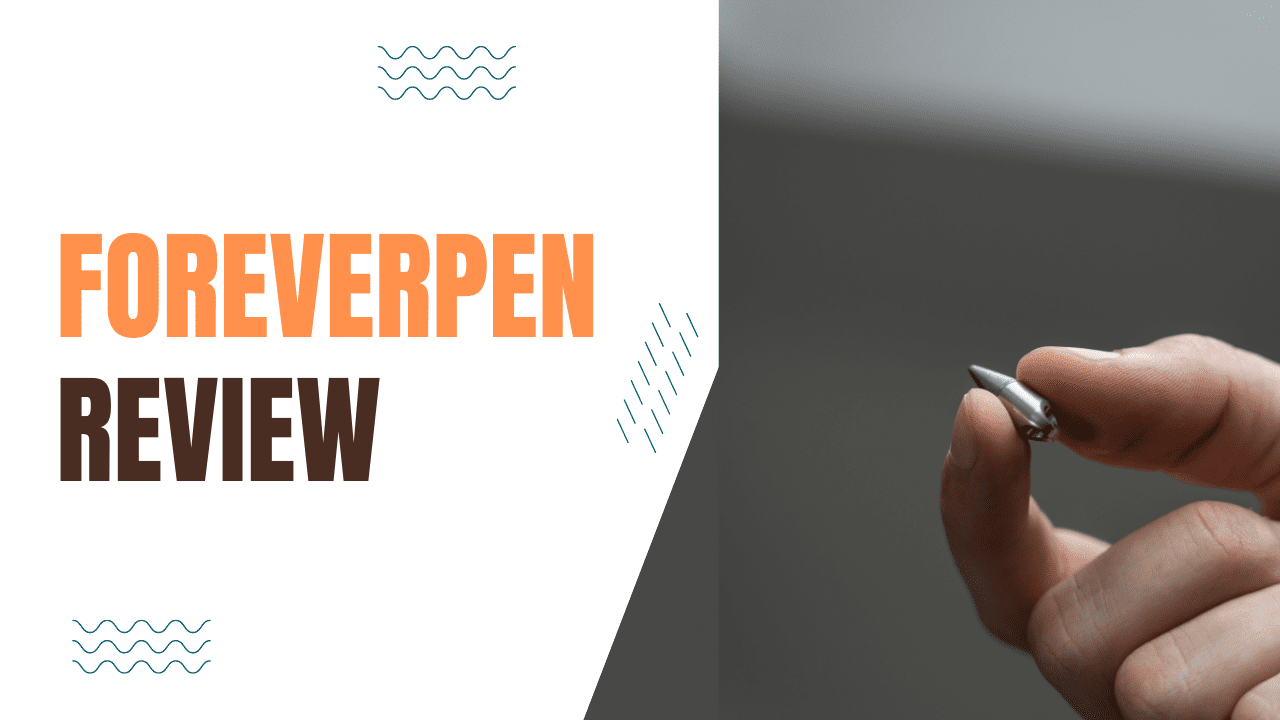 Have you ever needed to fill out paperwork at a government agency or local bank, only to find that you didn't have a pen with you? All of us have been there. Due to contact-tracing requirements in some businesses, it is becoming more and more common these days. That is why the ForeverPen is such a useful small tool.
This little guy, which the manufacturer claims to be the tiniest inkless pen in the world, is so small that you can attach it to your keychain or bag zipper and not even know that it's there. As the name implies, it's intended to last forever (or almost so). In this ForeverPen review, we'll examine if this pen is actually as durable as it claims to be and whether using something so little can actually result in comfortable writing.
What is ForeverPen?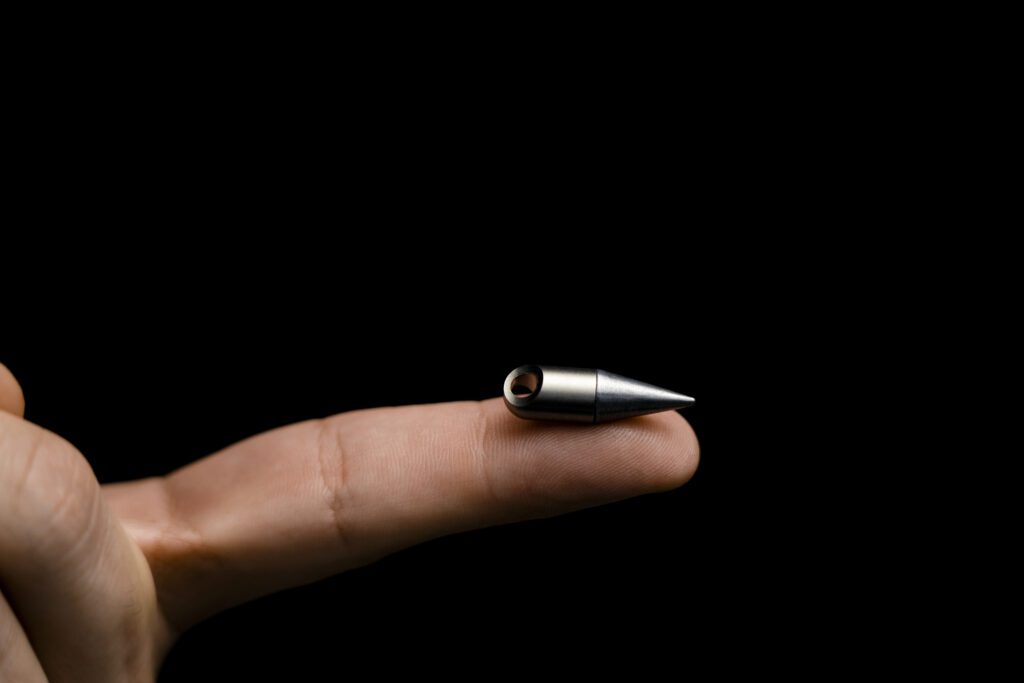 It is manufactured by World's Tiniest, a company that makes pens that are the smallest on earth. For everyday use, they have been designing and producing tiny items. The business manufactures the smallest items you use every day. Additionally, they maintain the environmental sustainability. You can put it inside your wallet or dangle it on a keychain. Whenever you need it, take it out. It has been featured on Uncrate, Cool material, Gearjunkie, and TreadHunter.
The beauty of the product is that it will survive longer than you anticipate because it is constructed of sturdy metals like silver. This pen never needs a refill, so don't bother about anything else. Additionally, it is magnetic, so if you have a metal table, it won't roll around.
Features of ForeverPen
Here are some of the reasons why this magical pen is truly magical. Here are some reasons why you should buy it.
Material Choice
The silver tip of this pen is the sole component that cannot be altered. The remaining portion of the little body is made of your choice of copper, brass, or grade 5 titanium. The color of these metals is the only distinction. Additionally, they are strong and won't easily crack or fade in color.
Multi-Tool
Its primary function is that of a pen, but you can also use it to rip envelopes and poke holes in boxes. When you require a powerful, pointed tool for cutting, tearing, or punching holes, this pen can handle it. The pen is a very dependable and practical item.
Smudge-Proof
You'll be relieved to learn that this pen has an anti-smudge body if you're a pen snob. Because of the ink, you can hold it and handle it as much as you like without leaving any traces of fingerprints. The body gets dirty quickly even though you would want to clean it frequently.
Works on Every Surface
You don't have to limit yourself to using this pen on paper only. Whether it is cardboard, wood, or plastic, it works on all surfaces. However, if you want to increase the life of the product, avoid using it too frequently on inflexible or hard surfaces.
Durability
The pen, which is crafted from silver and metal, is small and lightweight and can withstand harsh environments.
It Can Be Attached Anywhere
You may attach it to anything you choose thanks to a small hoop that is already incorporated into its base. You can fasten it to the belt loop of your pants or even the zipper of your coat or pair of jeans. Furthermore, even if you pull on the loop, it will not readily break.
Comfort and Precision
Despite its small size, the pen is extremely comfortable to hold. Furthermore, the pen is perfectly balanced, so no matter how lightly you hold it, it won't slip.
Fire Resistant
Even if it could be a standard component of a pen, this is unquestionably a benefit. In any case, if this pen touches anything hot or burning, it will just get hot rather than melting. It can be removed, allowed to cool, and then used to write once more. It is simply fire-resistant, not fireproof, therefore if it is exposed to the flames for an extended period of time, the fire's damage will become apparent.
Detailed specifications of ForeverPen
The size of this pen, which is smaller than an inch, is what surprises me the most. Yes, it is just 0.99 inches tall. Its weight was not disclosed by the manufacturer, but it is so light that you won't even notice it on your keychain or in your wallet. The nib was crafted by the manufacturer from very solid silver. However, if you use it on solid, concrete, or hard surfaces, it won't last very long. For the rest of the body, the manufacturer only provides titanium, brass, or copper.
| | |
| --- | --- |
| Size | 0.99 inches |
| Nib Material | Solid silver composite |
| Other Materials | Titanium, copper, or brass |
How to use it?
USE IT FOR WRITING
You can jot down notes with this pen easily.
USE IT TO CUT
Slice boxes open
DIVE IN WITH IT
Underwater writing can be done with this amazing pen.
THE ELEMENTS OF THE PEN CAN HELP YOU SURVIVE
A fire-resistant material
What is the story behind its creation?
The World's Tiniest, a U.K.-based business that specialises in producing the smallest yet most useful products, came up with the idea for the ForeverPen in February 2020. Prototypes were finished in August 2020. Their style is reminiscent of the metal and charcoal composites used by Renaissance artists like Leonardo da Vinci.
In March 2021, World's Tiniest launched the ForeverPen Kickstarter. The project acquired complete funding by the end of April 2021, putting the ForeverPen one step closer to becoming a reality. When production was complete, backers on Kickstarter had the choice of receiving various ForeverPen models.
Machine milling is really used to create it, ensuring that the tip has the ideal weight, balance, and point accuracy. The compact body fits comfortably in your hand, and the point is millimeter-perfect.
It came in a variety of designs, including the original titanium (grade-five), copper (high pure), and even a brass (naval grade) body. Since the ForeverPen's Kickstarter campaign has ended, it is only available in its original titanium body, though the firm may decide to reintroduce different models in the future.
What is the Purpose of ForeverPen?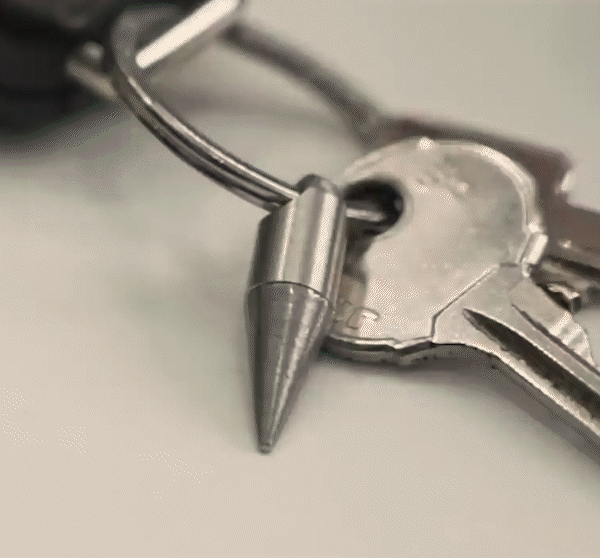 Have you ever needed to sign something off when you were out and about, such as at the bank or on the job, but there was nowhere to find a pen? You look through your bag or purse but can't find it. All that work, and you can't even sign an important document or endorse a check.
If only you could carry a little, handy pen with you at all times. This pen was created as an answer to this persistent problem.
What are the Additional Versions of ForeverPen?
After developing the ForeverPen, the World's Tiniest designed the ForeverPen Pro, which is an improved version of the original.
This product has a longer, more pen-like length and is made from the same materials as the original pen. It also offers the same remarkable features and advantages.
The Pro version of the pen has a width of just half an inch and a length of around two and a half inches.
Despite being almost three times as big as the original, the Pro version is still small enough to be a keychain pen or to clip onto your luggage without getting in the way.
Build and Design
It was designed by its creators to endure forever; due to its extreme resilience, it is practically impervious to any challenge. This pen will last a lifetime if you properly care for it. Its silver tip must be shielded from additional pressure, and writing on uneven, non-flat surfaces must be avoided.
Although you may anticipate, the tip is not glossy. No matter how much you write, you will always notice a gentle gray-colored tip. The nicest aspect is that there is absolutely no pressure required. You must be careful not to draw lines on any surface at random because the pen can write on whatever surface it touches.
Additionally, a pro edition is offered that is even more svelte than the basic version. The pro version of the pen is somewhat larger and is entirely made of brilliant silver. The Pro version is considerably simpler to grip because it is a little bigger.
How Does ForeverPen Work?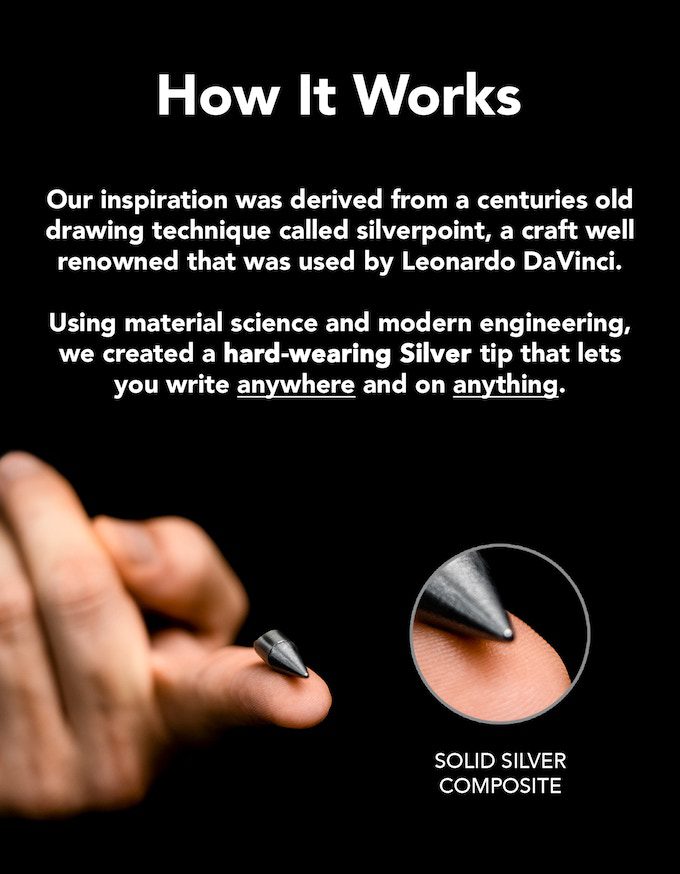 Given all the features and the fact that there is no ink in the pen, you must be wondering how it functions. You are unaware that silver was employed by artists in their work. However, since graphite was a cheap and accessible alternative, it quickly became a popular choice. It truly transports you to a time when the only currency available to writers and artists was silver.
Whom does it suit the most?
People who want to reduce the clutter and effort associated with regular pens may find the ink-less design to be an attractive feature. Additionally, you can easily transport it anywhere you go because of its small size and portability. This is totally a wise choice for people looking for a reliable and low-maintenance writing instrument.
ForeverPen Price
ForeverPen is currently available at the following prices:
1 ForeverPen pen: CAD$35.73 each
3 ForeverPen pens: CAD$28.53 each
5 ForeverPen pens: CAD$22.86 each
Concluding Remarks
According to what we can discern, the ForeverPen is a multi-purpose pen that was created using the silverpoint drawing method. By combining contemporary materials with age-old procedures, the designers were able to create a pen that might last much longer than 500 individual pens combined. ForeverPen has won accolades for its durability, performance under pressure, and waste reduction in addition to its long lifespan.
Users might want to get in touch with the customer service team before placing a purchase. This is because it is currently being advertised on KickStarter, where many backers are anxiously awaiting their delivery. The crew claims that 90% of the goods have already been shipped, but nobody has yet received their tracking information. Although COVID's shipment delays are probably to blame, we nonetheless suggest proceeding with care.
Frequently Asked Questions
How long will ForeverPen last?
According to the team, the name "ForeverPen" implies that the pen will live much longer than any other pen. Accordingly, each of this pen equivalent to 500 traditional pens.
How is ForeverPen made?
Silver composite tips are used on the tips, while grade 5 titanium is used on the body.
Is ForeverPen backed by a money-back guarantee?
It is covered by a 30-day money-back guarantee. If a customer changes their mind, they should contact customer service. As a consequence, each pen must be brand new and unopened.
Is ForeverPen TSA-approved?
TSA-approved, it can be used to travel. The pen contains no blades or toxic metal pieces.
The post ForeverPen Review: Tiny Inkless Pen appeared first on Top 10 Gadgets.
* This article was originally published here