Deceive Inc. is a groovy game of deception and subterfuge – coming March 21
Welcome to Deceive Inc. – the multiplayer PvP game of social deception and subterfuge. The teams at Sweet Bandits and Tripwire Presents have been hard at work polishing this game for release. We're all incredibly excited for the coming weeks, and now it's time to share that excitement with you!
About Deceive Inc.
Deceive Inc. is a multiplayer hero shooter with an emphasis on social stealth and deception where 12 players (either solo or in teams of 3) are tasked with becoming the Agents and successfully extracting with an objective.
Every Agent spawns undercover, cloaked as one of the many NPCs populating the map. Armed with their unique weapons and abilities – plus a couple of hi-tech spy gadgets for good measure – they must use their knowledge of spycraft to suss out other players, avoid detection, gather intel, purchase upgrades, and ultimately locate then extract the precious cargo.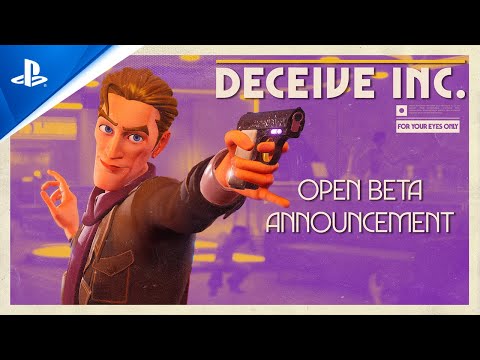 Deceive Inc. launches globally March 21
Deceive Inc. will launch on PlayStation 5 on March 21 of this year. We'll also be hosting an Open Beta featuring full crossplay support starting March 10 – free for all players who want to try the game out.
Meet the Agents
Deceive Inc. will have 8 playable agents available at launch, each falling under one of four archetypes:
Vanguard: Well-rounded, self-reliant fighters that can get through the thick and thin
Tracker: Focused on finding, singling out, and hunting down targets
Scoundrel: Sly, cunning, and use dirty tricks to get ahead of the competition
Disruptor: Experts at controlling space and disturbing the flow of fights
Rupert Reid aka "Squire"
Adaptable Recruit
Starting Weapon: PT-08 Lance Silenced Pistol
Archetype: Vanguard
As Deceive Inc's youngest agent, Squire constantly feels the weight of his mentor's legacy on his shoulders. However, don't let his impostor syndrome fool you. He's a top of the line operative, capable of the best.
Tamar Zaken aka "Ace"
Relentless Huntress
Starting Weapon: 'Queen of Diamonds' Scoped Sniper Rifle
Archetype: Tracker
A sharp-eyed mercenary, Ace's unique skills have made her one of Deceive Inc's pillars. She tracks her rivals without fail. Believe us, once you figure out you are her target, it's already too late.
Ethan Chavez aka "Chavez"
Rugged Veteran
Starting Weapon: 'Sentinel' Revolver
Archetype: Vanguard
A true legend of the spy world, Chavez uses his strength and his kind heart to fight the good fight. He's supposed to be retired by now, but he's back for one last mission… or so he says.
Madame Xiu
Enigmatic Dame
Starting Weapon: 'Zhulong' Automatic Crossbow
Archetype: Scoundrel
There are a lot of rumors circulating about Madame Xiu, her past, and her abilities. Deceive Inc. can't confirm any of them without breaching their contract with her, which is a dangerous game to play with such a cutthroat and enigmatic lady.
Hans Moritz aka "Hans"
Imposing Provocateur
Starting Weapon: 'The Hook' Hand-mounted Shotgun
Archetype: Disruptor
Once a head honcho of a super criminal empire, Hans used to have it all. Now forced to serve his sentence as a Deceive Inc. agent, he swears he'll regain back his former power and glory.
Florence Jacques aka "Cavalière"
Unflinching Investigator
Starting Weapon: 'Dragoons' Alternating Dual Pistols
Archetype: Tracker
Brash detective Cavalière leaves no stone unturned… And if her deduction skills are not enough to keep you in check, her serious combat abilities learned during her globe-trotting days will do the talking.
Francois Claudet aka "Larcin"
Gentleman Thief
Starting Weapon: 'Silence' Throwable Pocket Pistol
Archetype: Scoundrel
Gentleman thief and professional borrower, Larcin has made quite a name for himself with his peculiar savoir faire and showmanship. His charms are such that you won't even be mad when noticing previous items missing from your pockets.
Yu-Mi Kwon aka "YU-MI"
Raucous Gadgeteer
Starting Weapon: Tactical Slingshot
Archetype: Disruptor
Brilliant and happy-go-lucky, Yu-Mi's enthusiasm to be a part of Deceive Inc. is only matched with her ability to create and break things around her. Some may say she's a stubborn brat, but her tactical capabilities and her inventiveness tend to make her rivals eat their words.
Pre-order and Black Tie Edition bonuses
Deceive Inc. will also launch with a ton of great cosmetic items for players to unlock. On top of that, we also have some amazing cosmetics designed specifically for those agents who'd like to show up to the job in impeccable style.
Pre-order Deceive Inc. to receive:
"Founding Agent" Profile Portrait
"Founding Agent" Equipment Ink
Purchase the Black Tie Edition to Receive
"Dressed to Impress" Profile Portrait & Title
"Dressed to Impress" Equipment Ink
Bonds (Deceive Inc. Premium Currency)
Pre-purchases are coming very soon, so make sure you add Deceive Inc to your PlayStation Wishlist to be notified when they're live!
* This article was originally published here