MSI GeForce RTX 4070 Ti Gaming X Trio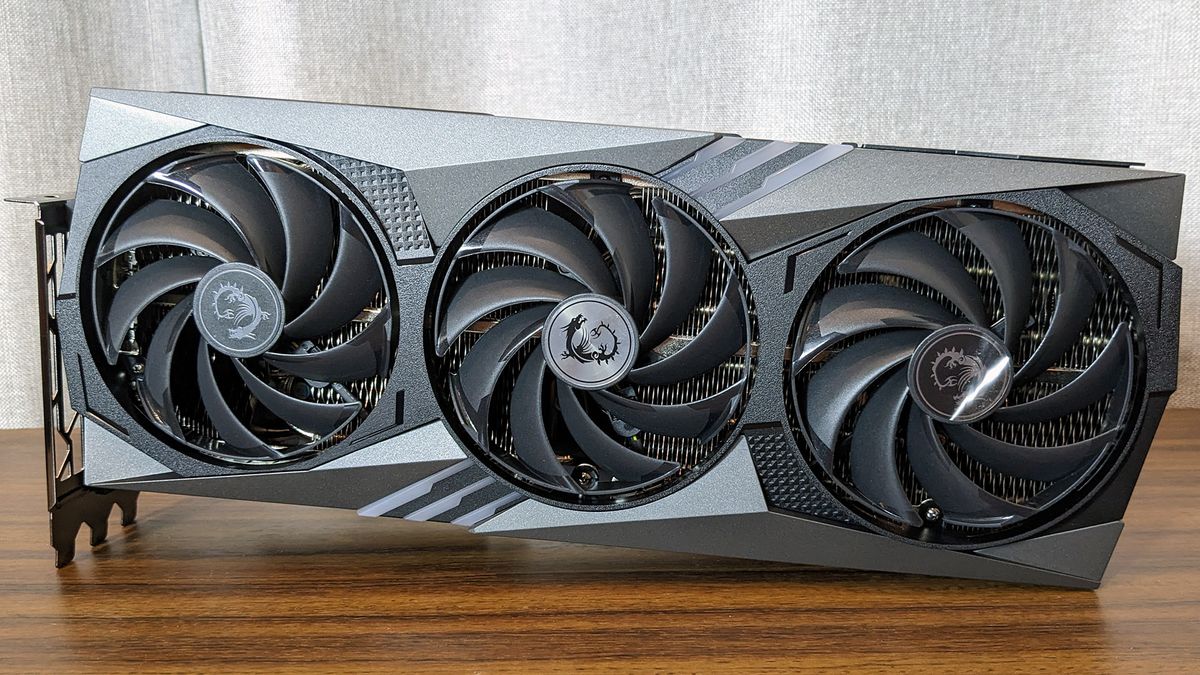 Here for review today I have MSI's RTX 4070 Ti Gaming X Trio. It's a card that brings Nvidia's Ada Lovelace architecture down to a lower price point, though the three words 'lower price point' are very much relative. Still, it's a card that essentially matches the RTX 3090 in performance while costing less. When viewed in those terms, the RTX 4070 Ti isn't a bad proposition.
If you haven't already read it, now would be a good time to check out our Gigabyte RTX 4070 Ti review. The card formerly known as the RTX 4080 12GB is fundamentally a very good graphics card that's still hurt by its price.
It seems like every GPU article over the last few years is framed by price talk. Given the middling spec of the RTX 4070 Ti, you get the feeling Nvidia has a lot of room to drop prices. We're still early in the life cycle of the Ada generation of cards, I'd imagine that the entire GPU product stack from both AMD and Nvidia is due for a price correction. Though when that might occur is anyone's guess.
But before drawing too many conclusions (in the introduction no less) let me introduce to you the MSI GeForce RTX 4070 Ti Gaming X Trio. It's the latest iteration of MSI's popular model, which sits above its Ventus series and below the Suprim series. The Gaming X Trio carries the distinctive styling of its predecessors, with a stylized and somewhat angular aesthetic with a good dose of RGB lighting, a custom PCB and a factory overclock.
MSI GeForce RTX 4070 Ti Gaming X Trio overview and specs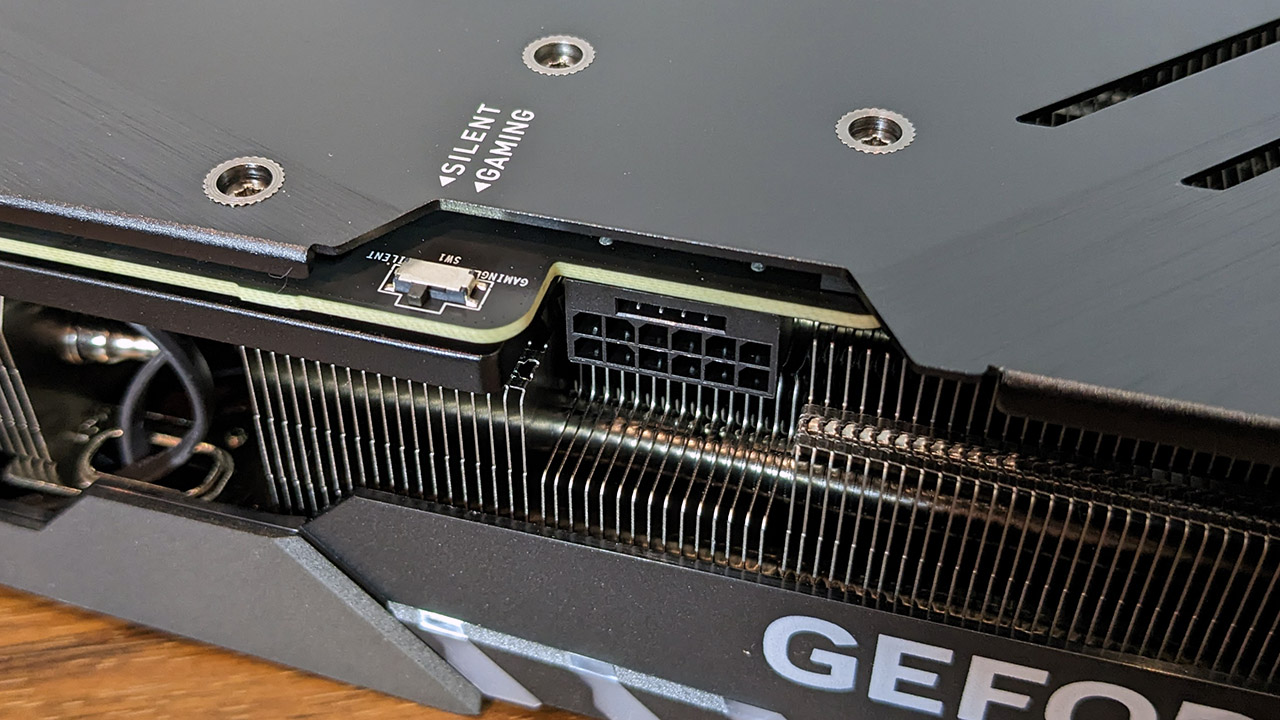 (Image credit: Future)
The MSI, like all RTX 4070 Ti cards released to date, is built around the third Ada Lovelace GPU to be released, the AD104. It follows the AD102 found in the GeForce RTX 4090, and the AD103 that sits at the heart of the GeForce RTX 4080. AD104 is a 4nm GPU with all of its features enabled, including 7,680 cores, 60 RT Cores and 240 Tensor Cores. For its part, MSI has set the clocks of the Gaming X Trio at a boost clock of 2745MHz, a healthy increase of 135MHz over the Nvidia reference speed.
The card comes with 12GB of 21Gbps GDDR6X memory connected to a 192-bit bus. The resulting 504.2GB/s of memory bandwidth isn't bad, but it's actually less than the 256-bit RTX 3070 Ti's 608.3GB/s. I just can't get used to the idea of a card costing this much coming with a memory bus like one you'd have gotten on a mid-range card from 10 years ago.
The MSI board has a 285W TDP while power is provided by a single 16-pin 12HPWR power connector. Display outputs are the three standard DP 1.4 ports plus one HDMI 2.1 port. DP 2.0 is missing from the Ada generation, unlike AMD's latest GPUs.
The Gaming X Trio is a big triple slot card at 34cm long, and honestly, it's overkill for this class of card. Not that that's a bad thing! The shroud is mostly black with gray highlights. It's got an RGB MSI logo on the side, with additional elements either side of the central fan. A full-length metal backplate resides on the rear of the card.
MSI's Gaming X Trio cards have a long-standing reputation for delivering an excellent balance of low noise levels and cooling potential. As a cooler built to tackle higher TDPs, it has no problem keeping the 285W AD104 GPU running cool and quiet.
The main heatsink cools the GPU, memory and VRM. There are six heatpipes used to transfer heat away into what seems like acres of fins. There's also a small frame separate from the main heatsink to cool some additional components. It adds some rigidity to the card too.
The PCB is a custom one. It includes a 10-phase design with another two for the memory. Compared to some of the extreme VRMs we've seen on some RTX 4090 or AMD RX 7900 XTX class cards, the MSI 4070 Ti Gaming X Trio PCB is quite worldly in comparison. The AD104 GPU simply doesn't require a high-end VRM design.
The Gaming X trio comes with dual BIOS. The default setting is joined by a silent option, which runs a less aggressive fan curve. However, the card runs with so little noise anyway, I see no reason to engage the silent setting.
MSI GeForce RTX 4070 Ti Gaming X Trio benchmarks and performance
Image 1 of 5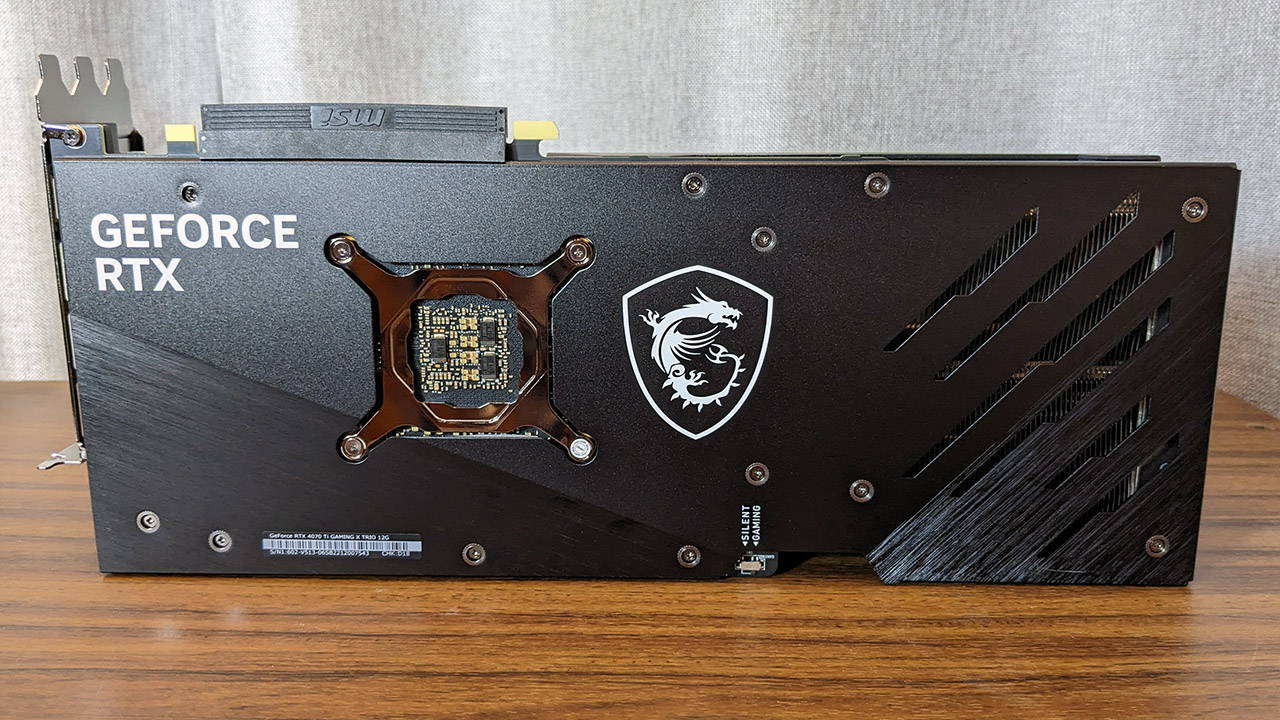 (Image credit: Future)
Image 2 of 5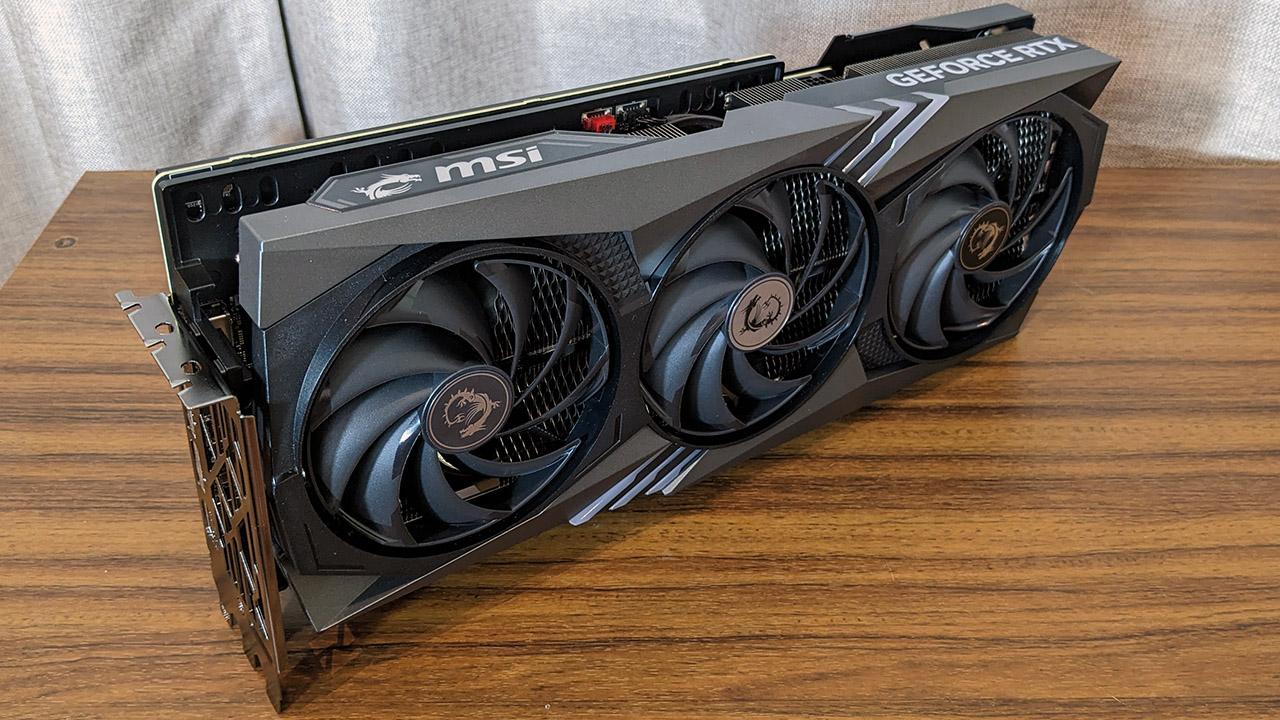 (Image credit: Future)
Image 3 of 5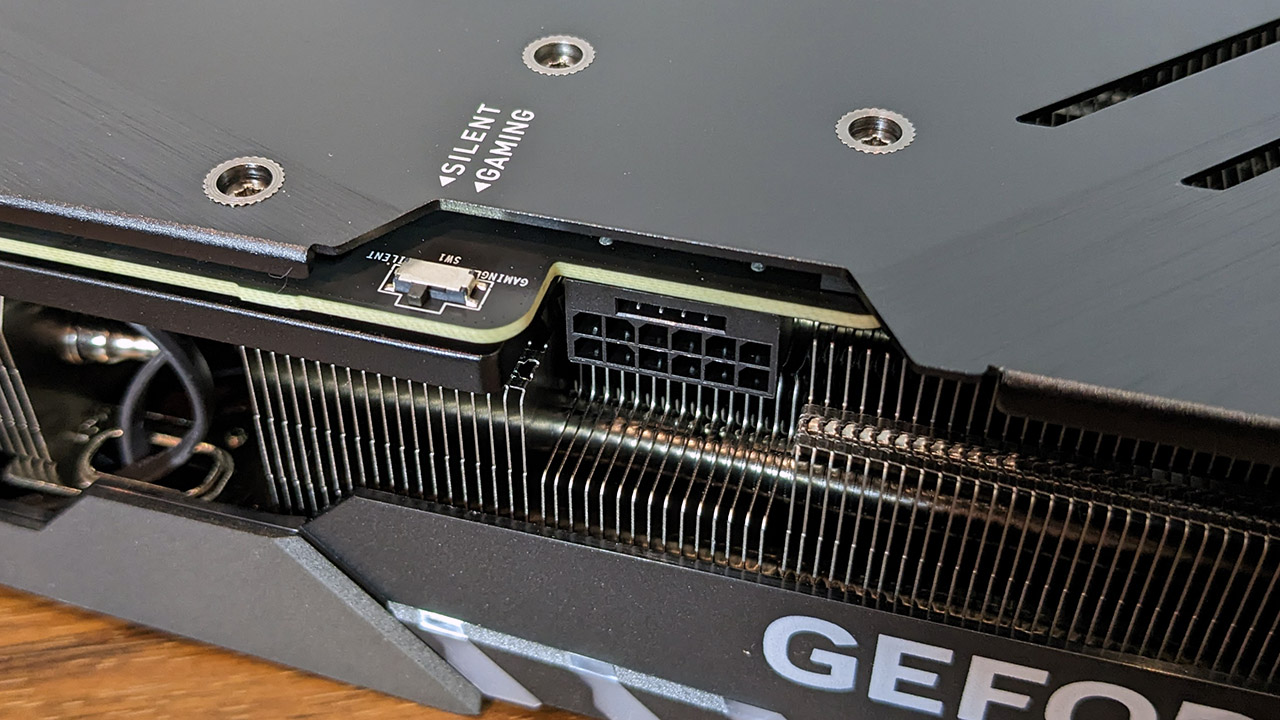 (Image credit: Future)
Image 4 of 5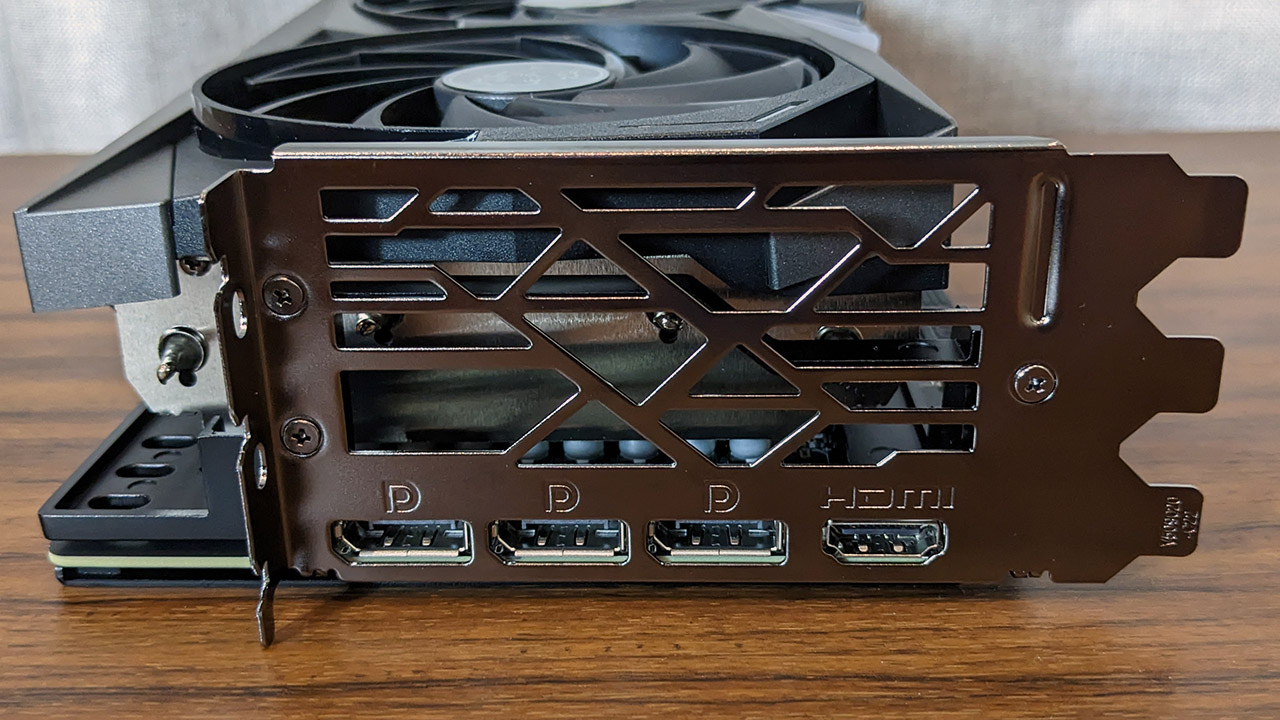 (Image credit: Future)
Image 5 of 5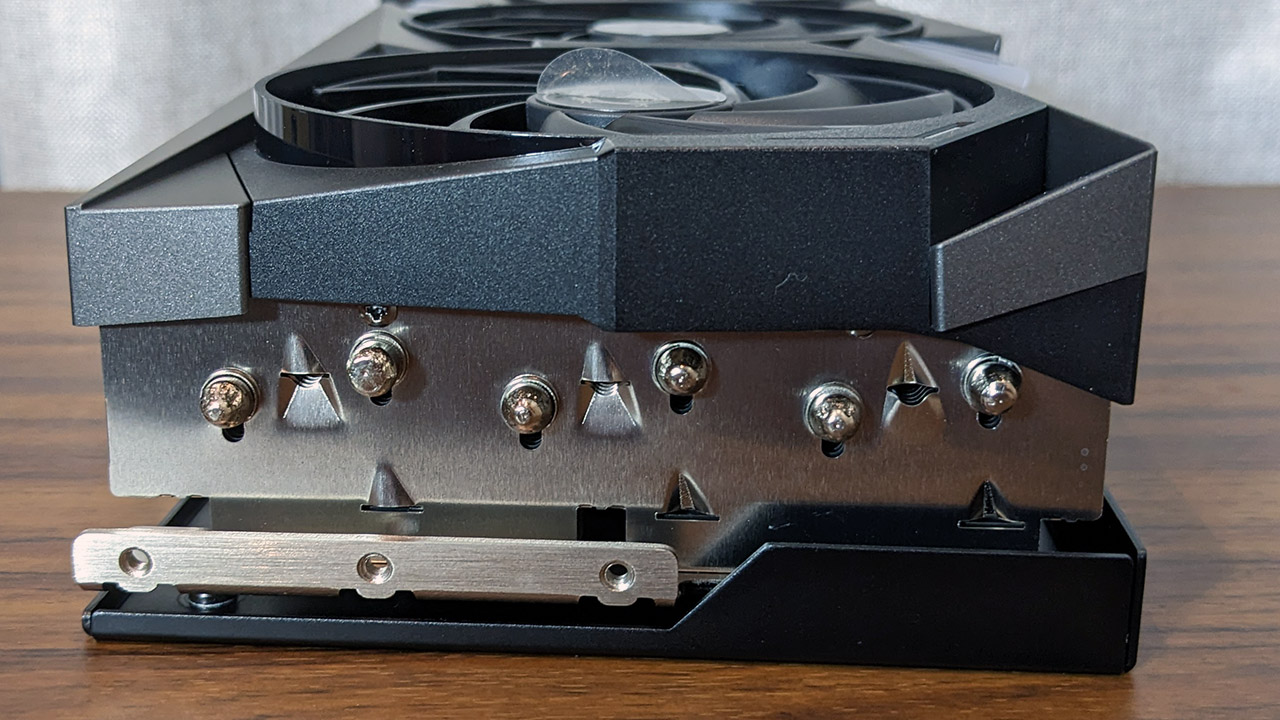 (Image credit: Future)
The RTX 4070 Ti is priced around the level of the RX 7900 XT. How do they stack up against one another?
Image 1 of 2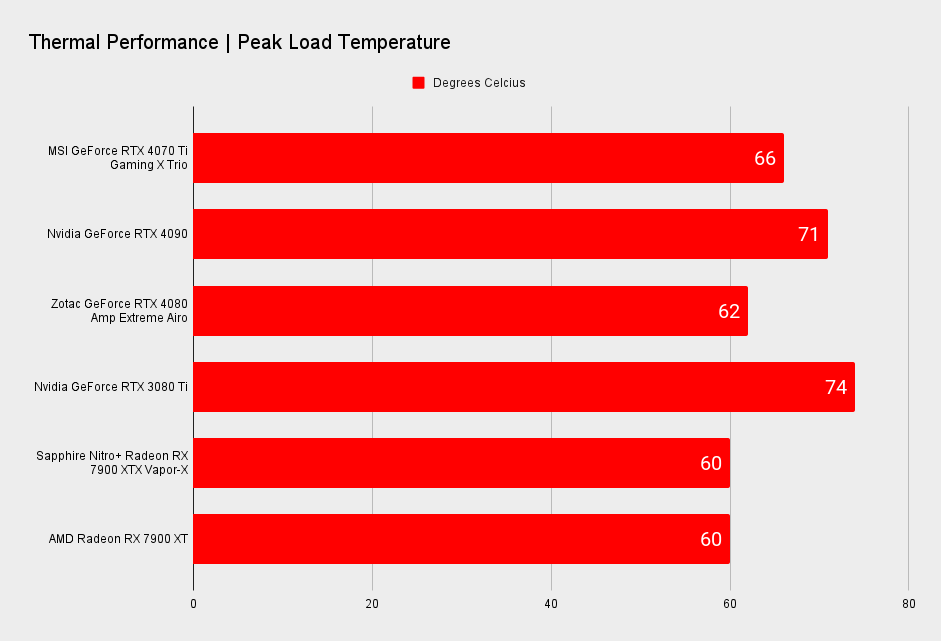 Image 2 of 2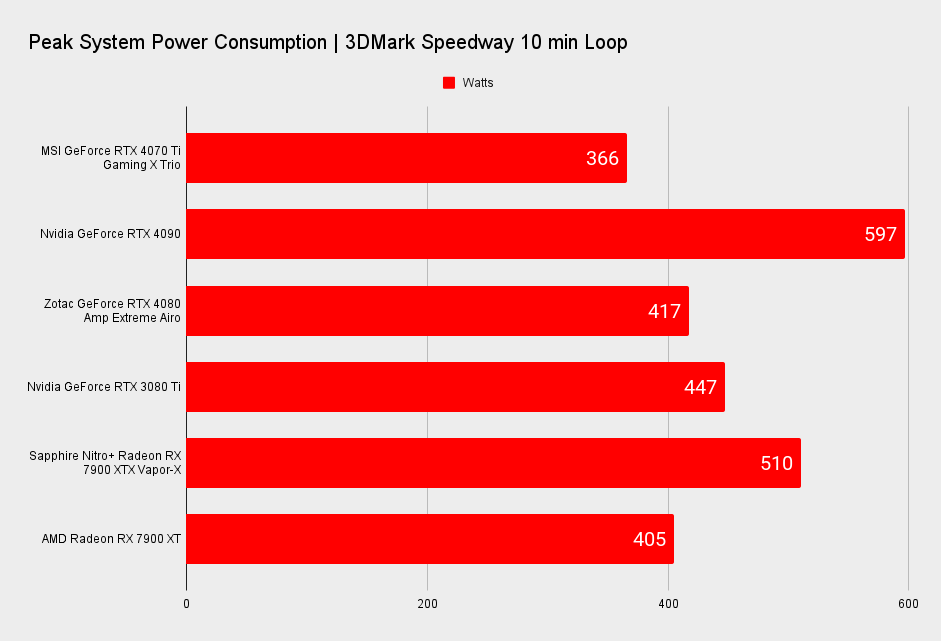 If you look at the cooling results, you might be surprised to see the MSI Gaming X Trio running hotter than some of the other cards.
Test rig
CPU: Intel Core i9 12900K
Motherboard: Asus ROG Maximus Z690 Apex
RAM: 2x 16GB G.Skill Trident-Z DDR5-6000 C36
Storage: 2TB Seagate FireCuda 530
Cooling: Cooler Master PL360 Flux 360mm AIO
PSU: Corsair AX1000
This is a deliberate choice by MSI, and its one I largely agree with. At this temperature, the RTX 4070 Ti's boost clocks are allowed to reach their maximum, yet the cooler is all but silent. There's simply no point to running the fan speeds any higher as all it does is add noise for no performance benefit.
When looking at pure power consumption numbers, the RTX 4070 Ti really stands out. It beats out the RX 7900 XT but just as importantly, absolutely smashes the RTX 3080 Ti (and therefore the RTX 3080 all the way up to the RTX 3090 Ti) The RTX 4070 Ti isn't a perfect card but in terms of power consumption, it's excellent.
Synthetic gaming performance
Image 1 of 3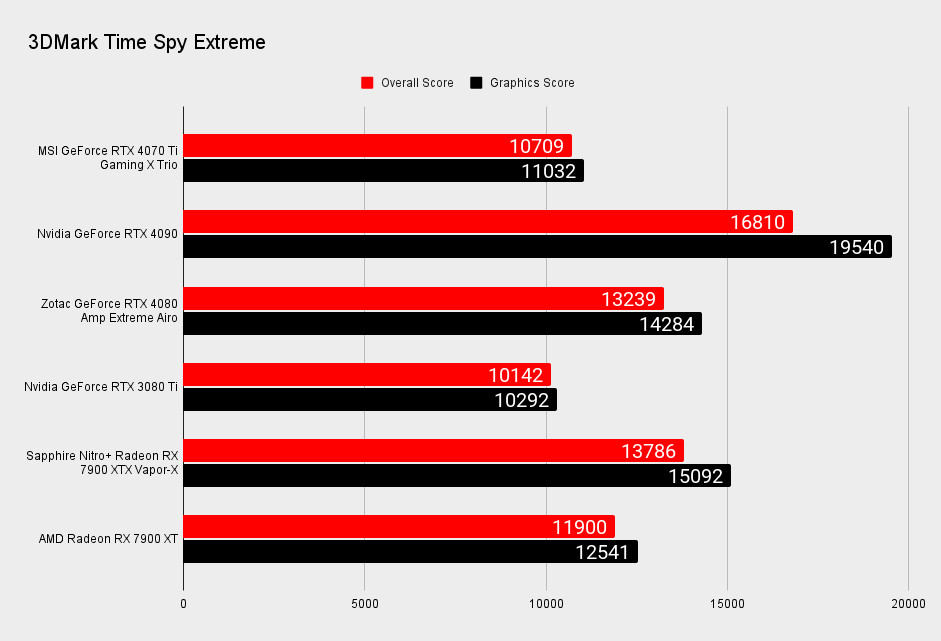 Image 2 of 3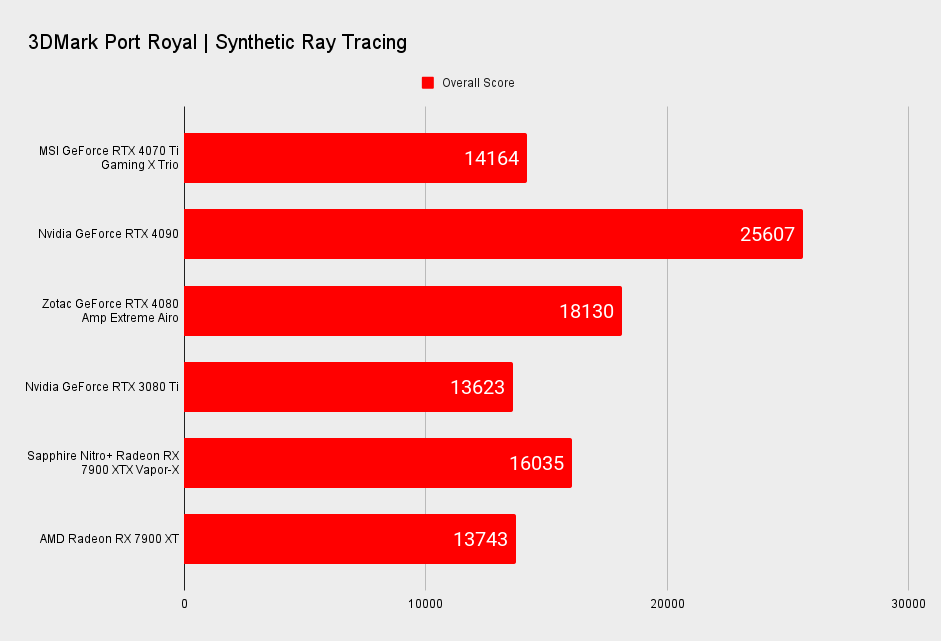 Image 3 of 3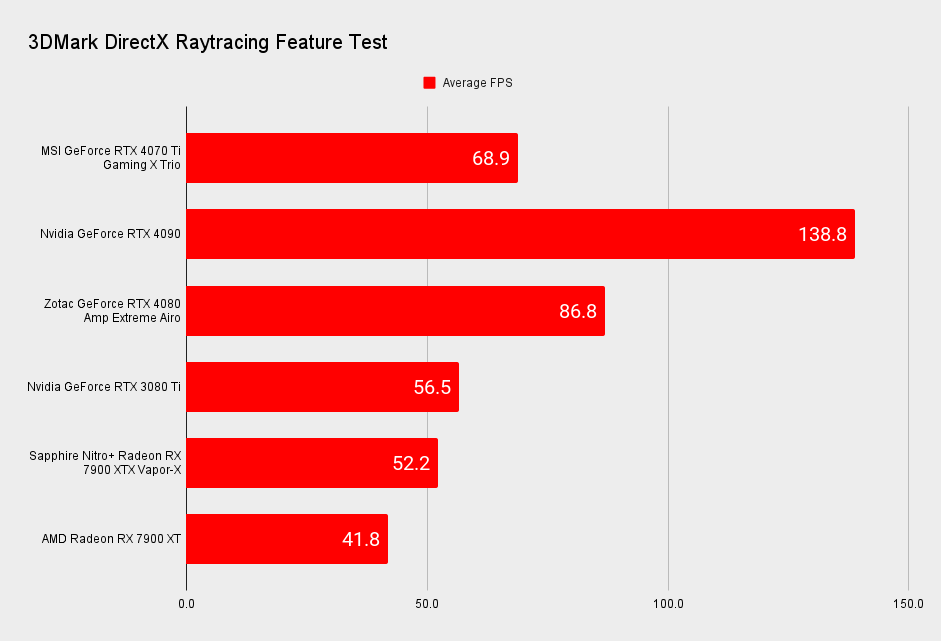 1440p Gaming Performance
Image 1 of 6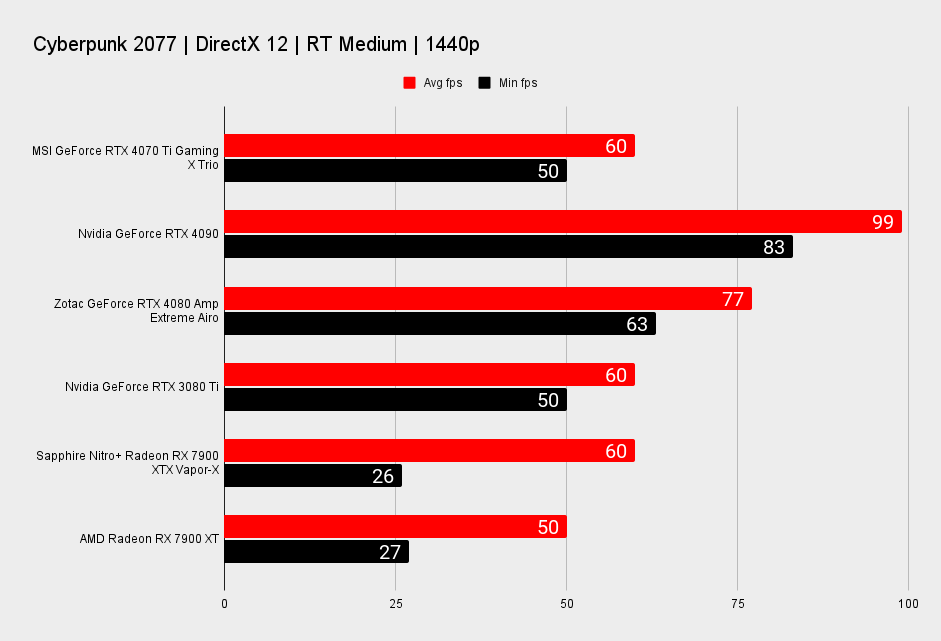 Image 2 of 6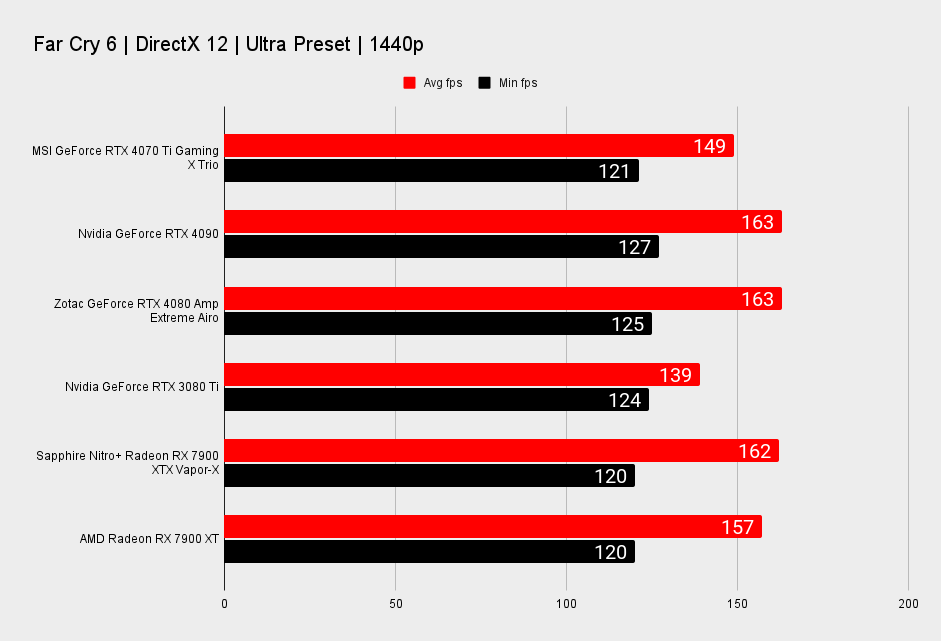 Image 3 of 6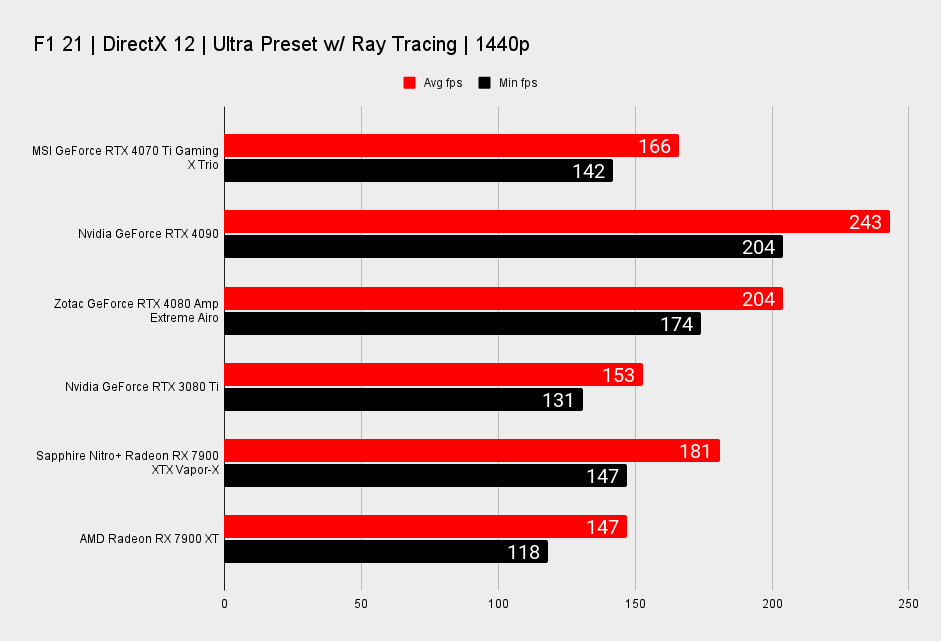 Image 4 of 6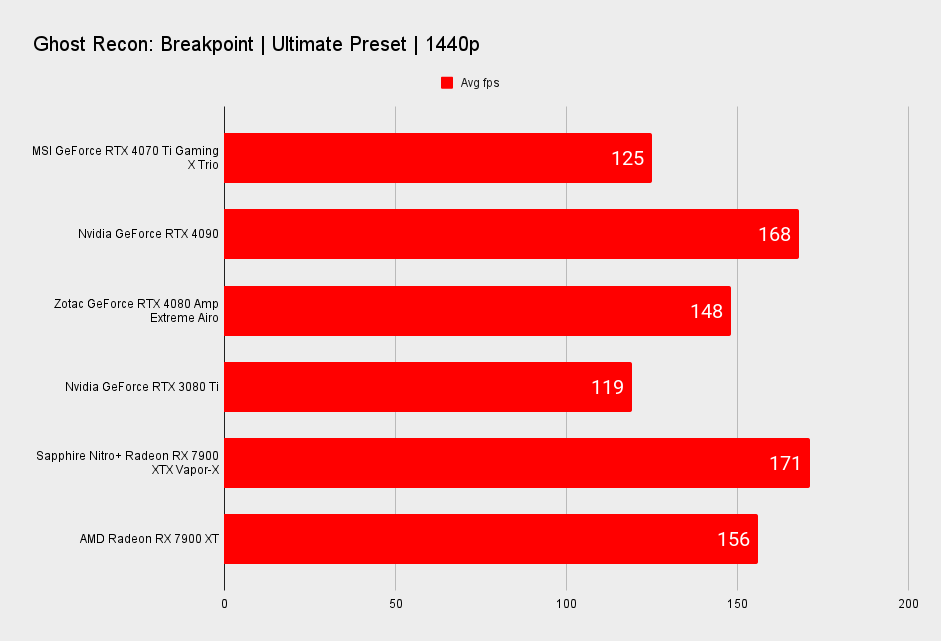 Image 5 of 6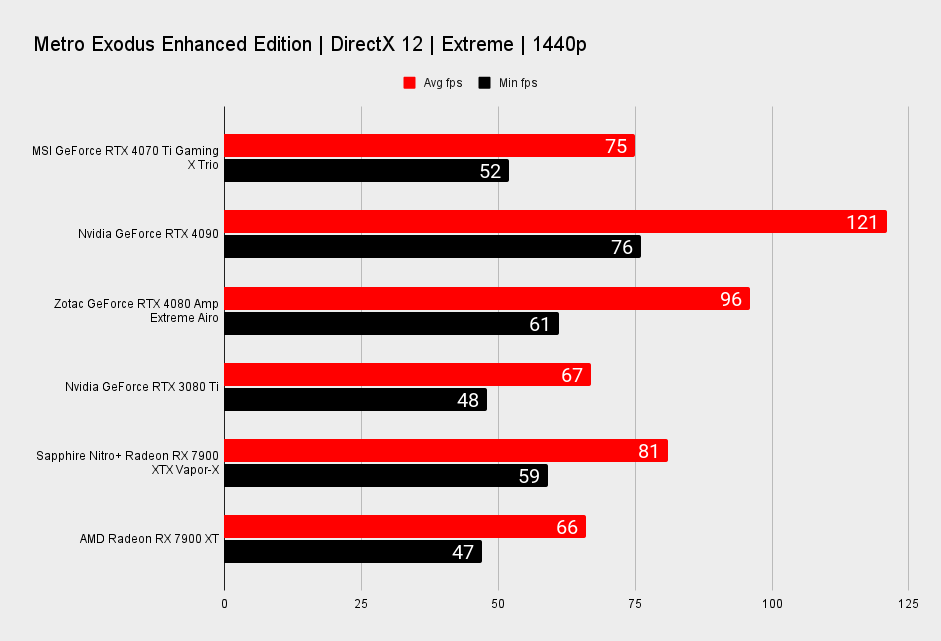 Image 6 of 6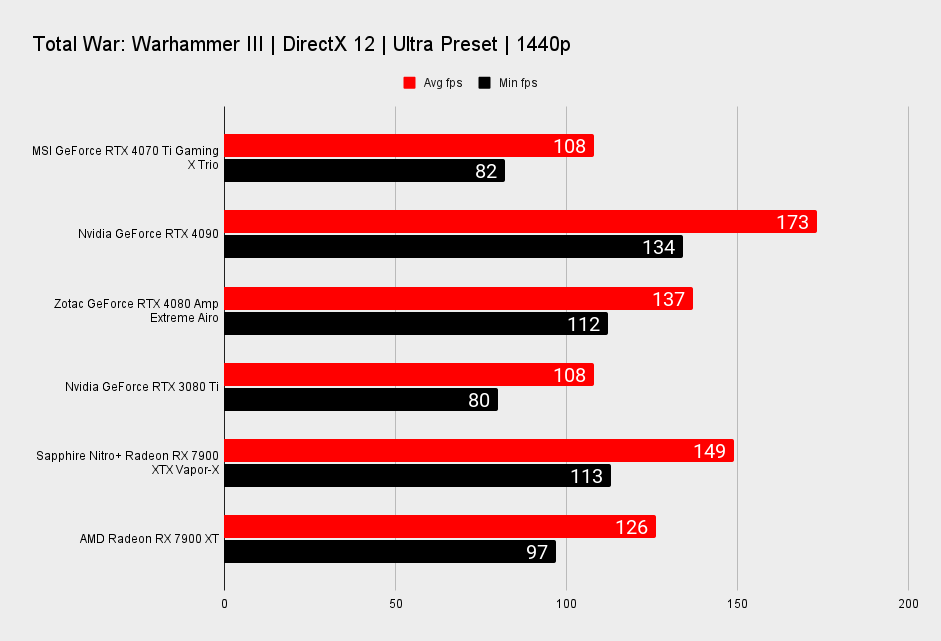 4K Gaming Performance
Image 1 of 6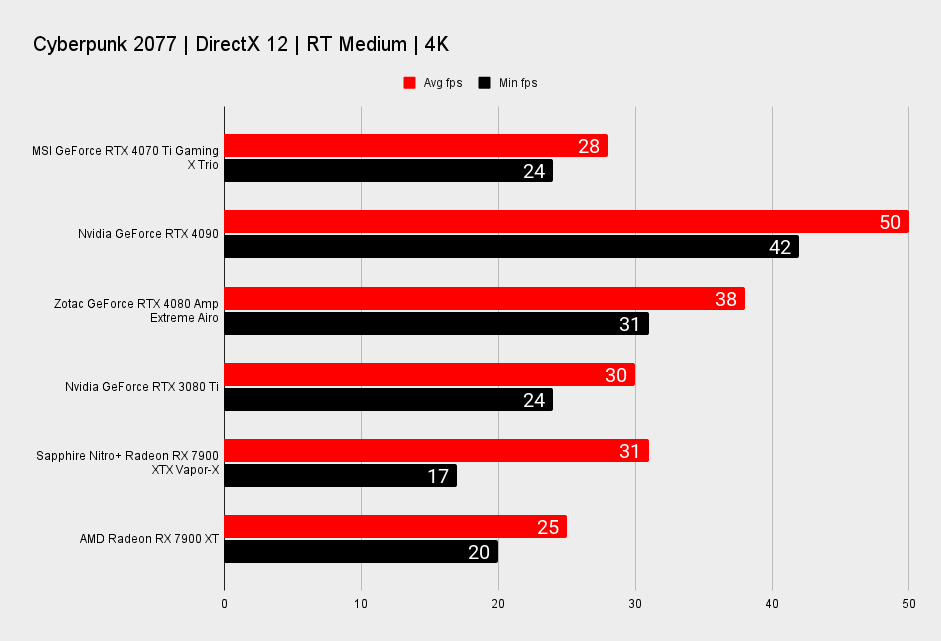 Image 2 of 6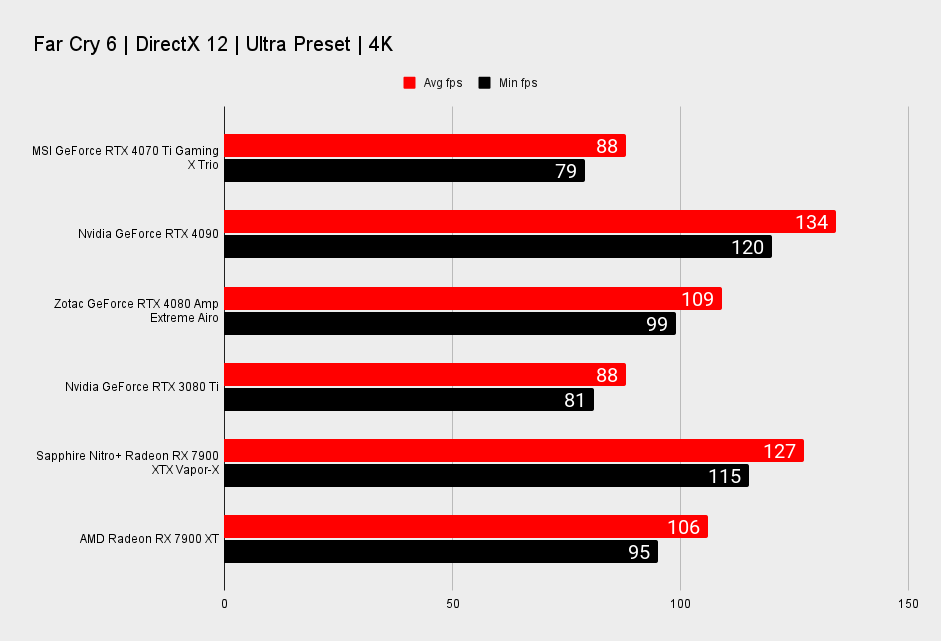 Image 3 of 6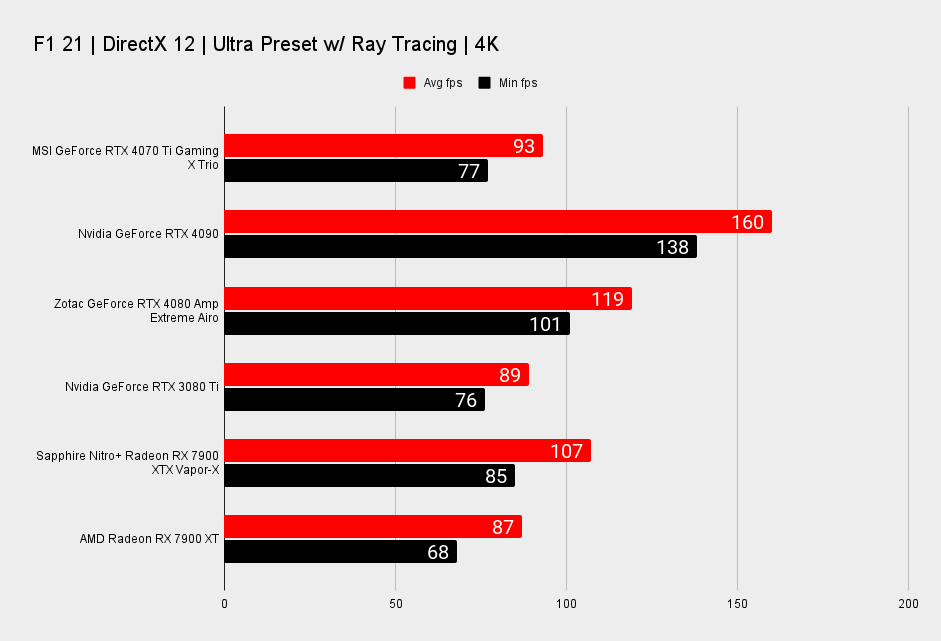 Image 4 of 6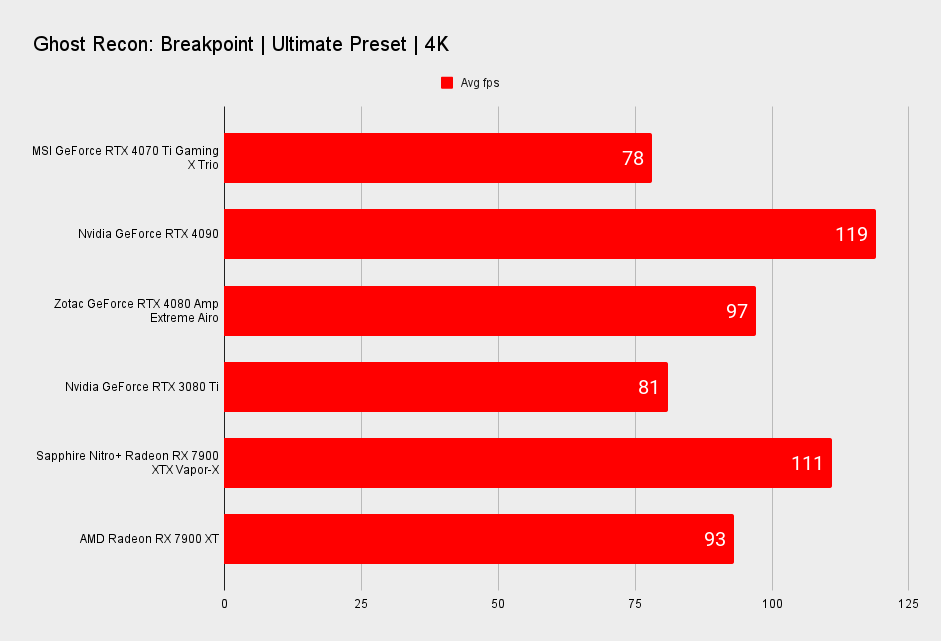 Image 5 of 6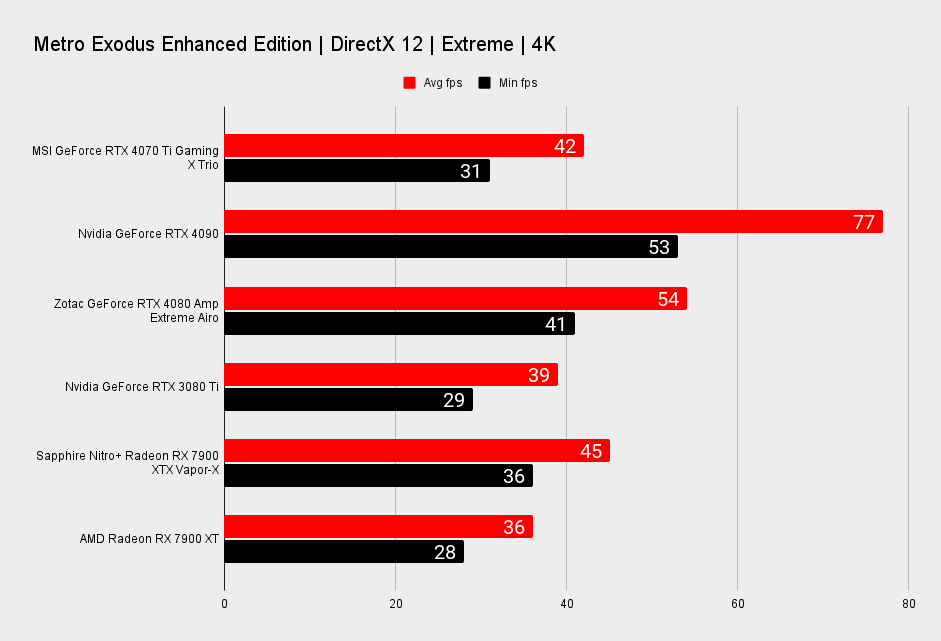 Image 6 of 6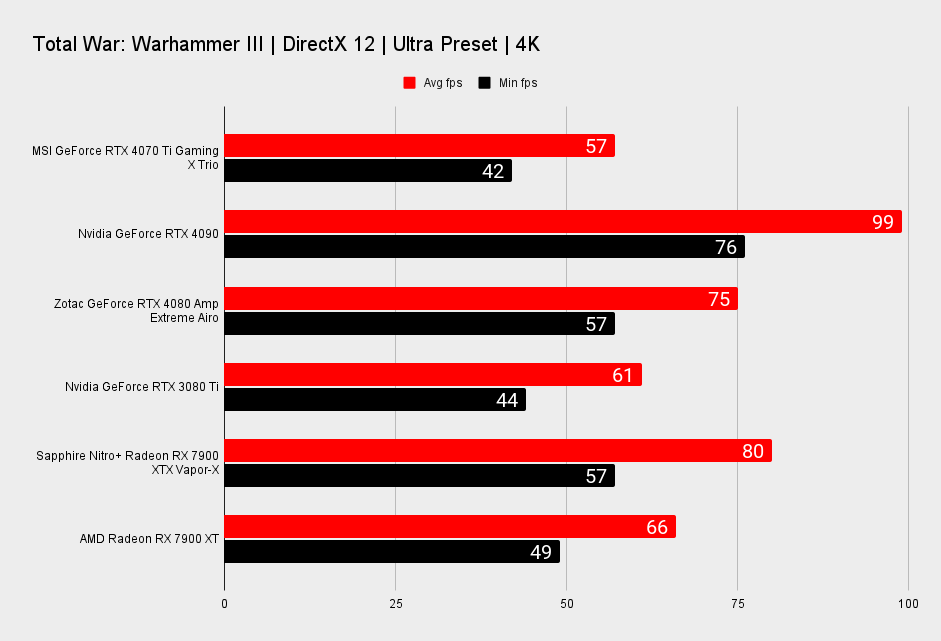 MSI GeForce RTX 4070 Ti Gaming X Trio analysis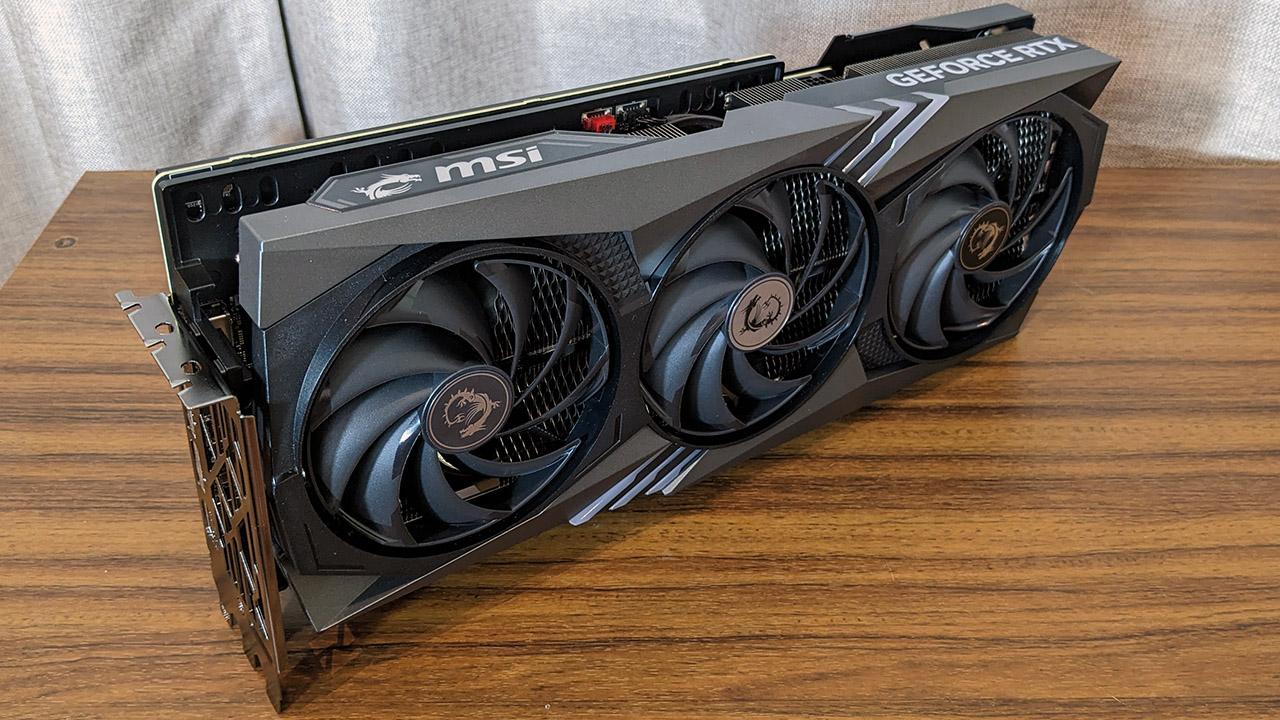 (Image credit: Future)
Let's ignore the pricing for a minute and focus on relative performance. The RTX 4070 Ti is a very good 1440p card, hitting the base 60 fps in Cyberpunk 2077 even without enabling DLSS voodoo. It pulls ahead of both the RTX 3080 Ti and RX 7900 XT in benchmarks with ray tracing enabled.
The tables are turned when it comes to traditional rendering where the RX 7900 XT pulls out a healthy lead. It all comes back to the enduring question: Do you value ray tracing and DLSS? Both cards have their strengths and weaknesses.
At 4K the RTX 4070 Ti appears to lose a bit of performance. This is probably a result of a memory bandwidth bottleneck. It's still capable of 4K gaming but the likes of the RTX 3080 and Ti remain potent competitors.
Interestingly, the MSI card was happy to consistently run at up to 2,850MHz. Nvidia (and MSI) deserve credit for extracting such a clock speed without losing the plot on power consumption.
MSI GeForce RTX 4070 Ti Gaming X Trio verdict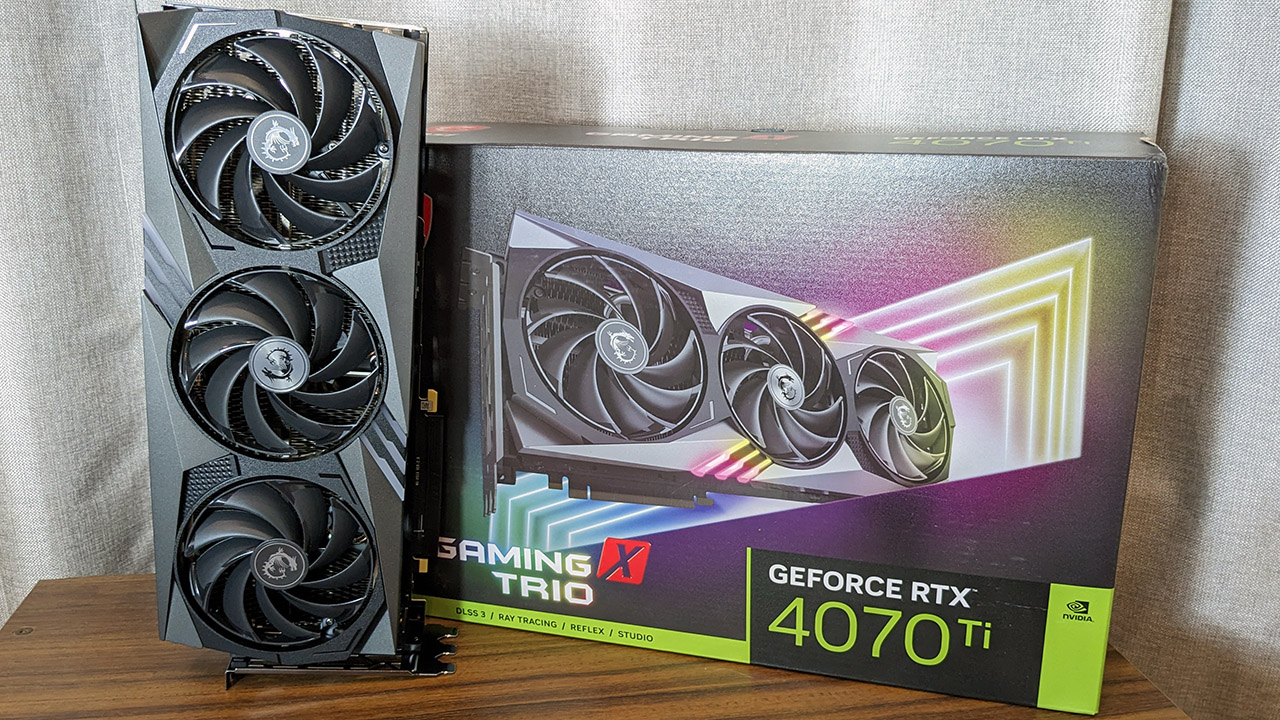 (Image credit: Future)
You get the feeling Nvidia is making serious money on each RTX 4070 Ti sold.
So, the RTX 4070 Ti is a potent 1440p card and more than capable of 4K gaming with the ever-impressive DLSS enabled, but it doesn't exist in a vacuum, and that means pricing comes back into the equation. Compared to the RX 7900 XT it's not bad, but that's a much more complicated design. You get the feeling Nvidia is making serious money on each RTX 4070 Ti sold. All we can do is hope that it will eventually deliver some relief to gamers who have had little to cheer about in recent years with the pandemic, supply chain issues and mining demand to contend with.
Getting back to the MSI Gaming X Trio, and I'm pleased to say MSI has again done a stellar job. The cooler is tuned just right, allowing the GPU to reach its highest boost states without compromising on noise levels.
It looks good, it's got a good quality PCB, dual BIOS and its Afterburner software always gets a favorable mention, though its future maybe isn't entirely certain.
Whether the RTX 4070 Ti is the right card for you comes down to what you have in your rig right now. If you're upgrading from a GTX card or RTX 20 series card, you'll enjoy a stunning performance uplift, plus enjoy the benefits of much improved ray tracing performance and DLSS. But if you've got an RTX 30 or RX 6000-series card, the gains aren't anywhere near as dramatic, especially given the cost involved.
If you do decide to grab an RTX 4070 Ti, the MSI flavor is a good one. It blends performance cooling capacity and build quality into a well-balanced package. It's not overly expensive compared to the high-end Asus Strix or MSI Suprim, and that's especially important when you consider those cards really are overkill for what is essentially a mid-range GPU.
Knock a hundred off the price Nvidia, and then the RTX 4070 Ti becomes something different, something incredibly potent.
* This article was originally published here