Pokémon Unite officially adds new Pokémon to the PTS, leaks reveal more Pokémon in February 2023
After a month of drought in January, and the arrival of Comfey in February, things might just turn massive in Pokémon Unite. With several February 2023 leaks revealed by reliable Pokémon Unite dataminer @ElChicoEevee, there are some official reveals.
Pokémon Unite officially adds Goodra and Lapras to the Public Test Server
The Public Test Server is a platform where the Pokémon Unite MOBA initially release their upcoming Pokémon and receives feedback from the players. In such an instance, the game has officially released two Pokémon already in the Test Server: Goodra and Lapras.
Image via The Pokémon Company
Hence, it is guaranteed that these two Pokémon whom Ash Ketchum released in the wild once, would be entering the MOBA in no time. Now, the gamers who have already tried out the two Pokémon, have revealed the following movesets for the two, besides the Basic Attack mechanism:
| Goodra | Lapras |
| --- | --- |
| Bubble | Whirlpool |
| Muddy Water | Ice Shard |
| Dragon Pulse | Water Pulse |
| Tackle | Perish Song |
| Power Whip | Bubble Beam |
| Acid Spray | Ice Beam |
| Unite Move- Right as Rain | Unite Move- Lapras Express |
According to February 2023 leaks, two new Pokémon might also arrive in Pokémon Unite
Besides the official additions, several trusted data miners and several social media platforms are currently buzzed with the images of more Pokémon in the game being circulated. Among them are Chandelure, and an evolution: Umbreon.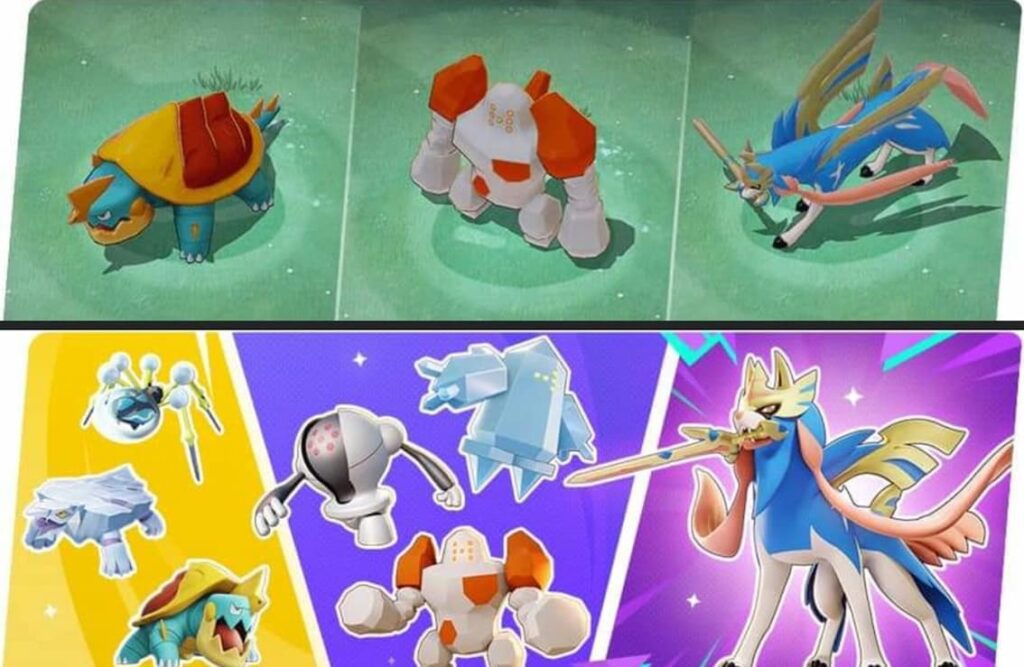 Image via The Pokémon Company
As per @ElChicoeevee, among these two, one is a defender, while the other is an attacker. Also, regarding the status of the rumored Zacian coming to the game, it has been revealed that it would be the final boss of the Boss Rush mode and not a playable character. Several Pokemon Unite-related YouTubers have also speculated and reported the arrival of Hoenn and Sinnoh starters Blaziken and Empoleon, whose arrival might be a test of patience and time.
Further adjustments will also be made to current Pokémon stats in Pokémon Unite
Besides the announcement of the arrival of Goodra and Lapras, it also has been said that some changes would be made to the current roster's Pokémon stats:
Changes have been made to Gardevoir, Delphox, Tyranitar, Urshifu, Eldegoss, Trevenant, Wigglytuff, Dragonite, Talonflame, Espeon, and Comfey's moves to adjust the balance of Unite Battles in the Public test.
Furthermore, changes have been made to Zoroark's stats and moves to adjust the balance of Unite Battles in the Public test.
No doubt these changes would be implemented in the actual game too.
Final Thoughts
The upcoming days this February in Pokémon Unite look like anything but a lack of new Pokémon arrivals. With several Pokémon, be it Dark, Dragon, Water, or Fire types, to be added, no doubt the game would still be alive. However, many gamers are thinking with the arrival of these Pokémon so frequently, there might be a dry season again in June/July. Only time can reveal that however Do keep following our Pokémon Unite news for any updates regarding the release of movesets of these Pokémon.
What are your thoughts on the Pokémon Unite February 2023 leaks? Let us know in the comment section below.
For more Mobile Gaming news and updates, join our WhatsApp group, Telegram Group, or Discord server. Also, follow us on Instagram and Twitter and Google News for quick updates.
The post Pokémon Unite officially adds new Pokémon to the PTS, leaks reveal more Pokémon in February 2023 appeared first on GamingonPhone.
* This article was originally published here