New State Mobile: Best Camping and Hot Drop locations in Lagna
In the latest update that was seen in February, New State Mobile has released a new map called Lagna for the players. It is a desert-like region with rocky ridges and open areas to suit long-range combat. With as many as twelve new locations to jump into. In this New State Mobile guide, we will see top camping and hot drop locations from Lagna and some of their unique attributes.
Best Hot Drop Locations in the Lagna Map
Dropping at the ideal spot is vital to attain an extra step over others. Such spots provide ample loot and cover and help in being ever-ready for combat. Hot drops are the most crowded spots on a map, usually due to the high loot available in the area, or just the number of players landing there.
To remain on the safer side, it's best for players to land close to the center of the map, so that they would not have to worry about the danger zone as much as the rest. But if players wish to go all in, the following spots are highly recommended.
1. Valley
The Valley is a moderately-sized area with many miniature buildings to loot from. Due to the number of buildings present here that provide cover, squads tend to land in the Valley to loot while having each other's backs.
Image via Krafton
Players can also land here if they seek action as many players land in the Valley in recent times. A massive advantage that lies in this spot is the presence of two ziplines that are not so far away; these ziplines help rotate around the map faster, in cases of moving towards the safe zone, and so on.
2. Delta Lab
Delta Lab is a hot drop in Lagna that is covered by a large wall from one side. Though it consists of fewer structures than that of the Valley, the amount of loot present is no less. Players would initially land here to start their game safely, but it has already become a hot spot for many.
Image via Krafton
So, it's advisable for players to quickly grab a house to their control and push further to gain control of the entire spot. If this fails, make use of the zipline located nearby as it connects players to Granada.
3. Maro
Maro is a semi-open spot that allows players to loot in the open. The loot is slightly less here, however, it is sufficient for a start. Players must be aware of the snipers outside as they can be shot from any side, hence, remain indoors until a teammate confirms the safety level.
Image via Krafton
In rare cases of multiple teams landing in Maro, try to take complete control of one house to avoid being rushed towards. This way, opponents will not take the risk and hence move away. But if this doesn't succeed, sprint towards the zipline located above the spot to move far away from Maro, leading players closer to Valley.
Best Camping Spots in the Lagna Map
Landing in hot drops might not be the go-to strategy for some, and that is when camping comes to play. By camping at a spot, players can have an eye out for whoever passes by and can take them down by surprise. This is executed with players hiding within walls and houses, ensuring complete protection for themselves.
1. Granada
Image via Krafton
Granada is an incredible spot for camping as it is one of the least expected spots to hold. Situated below Delta Lab, players can gain the utmost advantage when the safe zone lies towards the bottom of the map as this forces the players from the Delta Lab to pass through Granada and lead themselves into a trap. Granada consists of sufficient loot for those who wish to camp there, however, if one were to play offensively, he will have to move elsewhere.
2. Elita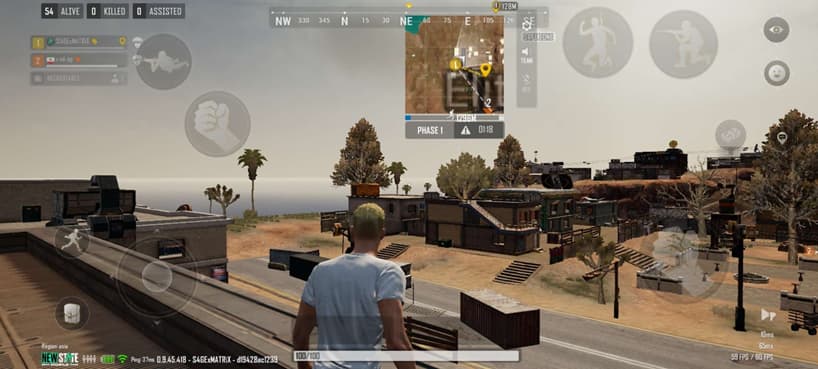 Image via Krafton
Elita is situated on the top of the map, and this in itself displays the possibility of camping. When players do not wish to land in hot drops, this is one of the spots where they would ideally drop in; hence, players can expect opponents now and then. Small houses can be seen in this spot, and players can hold any of these houses while camping. Players can also make use of the zip line located a few meters to the South, paving a faster path to the Plant.
Final Thoughts
Lagna is an interesting addition to the set of maps in the Battle Royale section of New State Mobile. It is a DMR-dominant map, so any sniper that jumps into the map is certain of bagging a fair amount of eliminations. With Akinta, Troi, and the popular Erangel in the map list, players would love to try out Lagna for a change. Lagna Showdown, hosted by Krafton and powered by iQOO, was organized to promote the new map as well.
What are your thoughts about the Camping and Hot Drop locations of Lagna Map in New State Mobile? Do let us know in the comments below!
For more Mobile Gaming news and updates, join our WhatsApp group, Telegram Group, or Discord server. Also, follow us on Google News, Instagram, and Twitter for quick updates.
The post New State Mobile: Best Camping and Hot Drop locations in Lagna appeared first on GamingonPhone.
* This article was originally published here