Storytelling project 'She Creates Change' aims to reach world's 432 million adolescent girls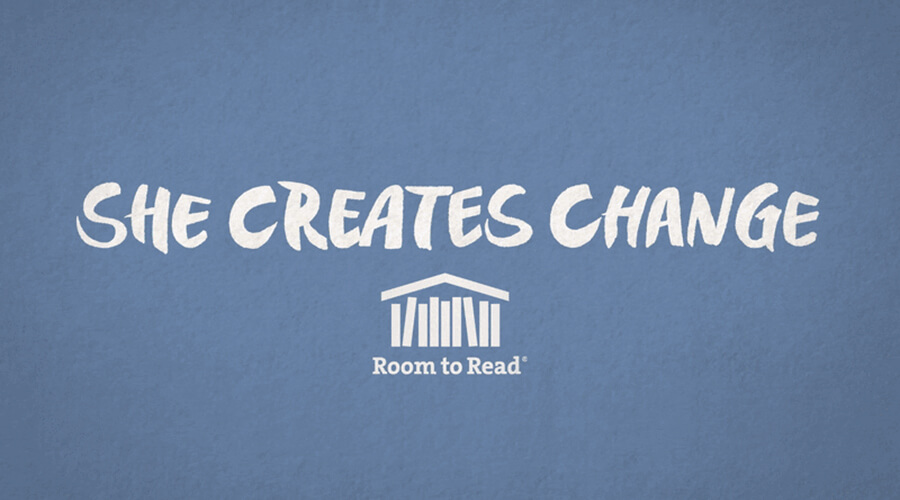 In celebration of International Women's Day, global education organization Room to Read today announced She Creates Change, the first nonprofit-led animation and live action film project to promote gender equality through the stories of young women around the world. The multi-media initiative – which in addition to a six-episode film series also includes books and audio stories – boldly aims to reach all 432 million adolescent girls (ages 12-18) in the world with content and educational curriculum that supports them in creating change in their lives and communities.
Every girl around the world woke up today with the same need. She had to utilize skills like resilience, self-confidence and critical thinking to overcome challenges – for herself, her family or her community. To achieve a world free from gender inequality, girls must develop these important skills and have access to role models that make perseverance possible. She Creates Change is Room to Read's solution to accelerating equality for every girl in the world by spotlighting role models who demonstrate their use of key skills to accomplish positive change. Inspired by the stories presented in She Creates Change, I know young women everywhere will activate their abilities to be changemakers and make informed choices to shape their futures.
-Dr. Geetha Murali (CEO, Room to Read)
She Creates Change is a series of six animated shorts with accompanying live action mini documentaries that feature the narratives of six courageous young women from historically low-income communities in Bangladesh, India, Nepal, Sri Lanka, Tanzania and Vietnam. The series, produced by award-winning entertainment company Nexus Studios, portrays how each girl confronts challenges unique to her life — such as harassment, food scarcity or early marriage — along with the life skills she uses to advocate for herself and her future. The stories address topics including climate justice, financial literacy, discrimination, menstruation and sexual harassment.
She Creates Change will be available in dozens of languages — starting with English, Spanish, and Hindi — and distributed throughout the world, through Room to Read programs and in partnership with community organizations and governments. Curriculum packages that align with the stories presented, based on Room to Read's comprehensive seven-year Girls' Education Program curriculum, will be provided online, through broadcast media and in-person programming.
For too long, the stories we have seen and heard through global media have not represented the voices of so many young women in the world. The practice of sharing stories by women, about women and for women is an undeniably powerful way to help girls advocate for themselves and their rights. It is an honor for me to help share the diverse stories featured in She Creates Change. Though each girl's individual circumstances may be unique, the courage and skills demonstrated are universal and exemplify how the rising generation of girls can use their voices to change their circumstances and societies.
-Martha Adams (Series Director and Producer)
To produce the film series, Nexus Studios – winner of the Academy Award, BAFTA, Cannes Grand Prix and the Grammy – curated a team of diverse women directors and artists from around the world with distinct visual styles, including Oscar-nominated Siqi Song, Hannah Lau-Walker, Bonnie Forsyth, Claudia Akole, Neeraja Raj and Prashanti Aswani. Emmy-winner Martha Adams, whose pasts projects include Girls Rising and We Will Rise: Michelle Obama's Mission to Educate Girls Around the World, serves as series director and producer for the project. Executive producers are Brenda Chapman, the first woman to win an Oscar for best animated film (Brave), and veteran screenwriter and director Jill Culton (Abominable), recipient of Animation magazine's GAME CHANGER award for being the first woman to write and direct an original animated theatrical feature. Notable writers like London's first Young Poet Laureate Warsan Shire, whose poetry was adapted for Beyonce's "Lemonade", crafted the screenplays. Rebel Girls, a global multi-media girl empowerment brand, is a strategic partner on the campaign and has produced books and audio stories that complement the film series. The film episodes feature voice over acting by a roster of talent including Freida Pinto, Charithra Chandran, YouTube sensation Prajakta Koli (MostlySane), Dilshad Vadsaria, Adhir Kalyan, Amrita Acharia, and Quyen Ngo. Kenyan R&B pop singer Karun Mungai performs the original She Creates Change campaign song "Who Am I?" written by Warsan Shire and composed by Lucie Treacher.
All six stories from the She Creates Change film series will be released to general audiences in October 2023, in celebration of International Day of the Girl.
The post Storytelling project 'She Creates Change' aims to reach world's 432 million adolescent girls appeared first on Skwigly Animation Magazine.
* This article was originally published here